Brandi Glanville Finds A Snake In Her Backyard…And It's Not LeAnn Rimes!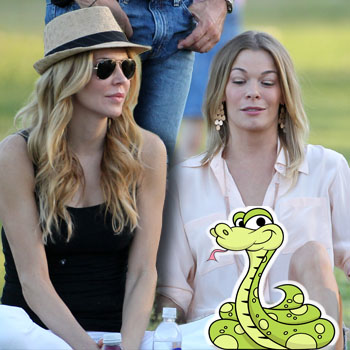 It's not only a jungle in LeAnn Rimes' backyard, but in Brandi Glanville's too!
Exactly one week after the country star shared on Twitter that there was a slithering snake in the backyard of her Hidden Hills home, her nemesis, Eddie Cibrian's ex-wife Glanville coincidentally found one in hers too – and RadarOnline.com has the details.
"Rattle snake in back yard Jake was freaking I handled it! Just a few tears Mason video taped it," she tweeted on Friday afternoon, adding a not-so subtle stab at LeAnn: "Just know us moms can do anything!"
Article continues below advertisement
"Omg I just found a snake in our backyard," LeAnn tweeted last Friday. "It was a harmless snacks sic, but I can't stand them. Of course, all the boys in the house found it cool."
Glanville recently complained that Rimes "doesn't have any boundaries" when it comes to her children, while LeAnn went on a rant on Twitter against her "step mom" haters earlier this week.
"Supporting other step moms is not putting down bio moms. Some people need to seriously grow up," she exclaimed.
Do you think it was a random coincidence that Brandi found a snake in her backyard exactly one week after LeAnn did? Sound off below.