LeAnn Rimes Finds A Snake In Her Backyard…And It's Not Brandi Glanville!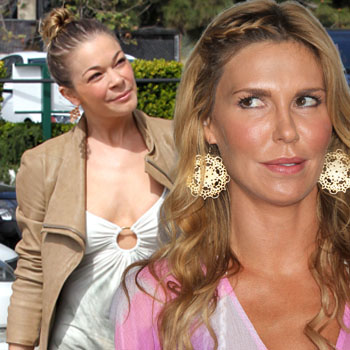 It's a jungle out there in the backyard of LeAnn Rimes' new mansion!
The 30-year-old country star, who recently moved into a sprawling Hidden Hills estate with husband Eddie Cibrian, had a frightening incident Monday afternoon when she found a snake in her backyard. And for once she wasn't referring to her husband's ex-wife Brandi Glanville!
"Omg I just found a snake in our backyard," LeAnn tweeted. "It was a harmless snacks sic, but I can't stand them. Of course, all the boys in the house found it cool."
Article continues below advertisement
LeAnn spent the day playing bonus mom to Eddie's two sons, Mason and Jake, who are enjoying their spring break.
"Successful kid trip to GameStop!" she tweeted earlier in the day. "Going home to make tacos. Love cooking in our new kitchen."
Glanville recently complained that Rimes "doesn't have any boundaries" when it comes to her children.