Terror At The Boston Marathon: 7 New Developments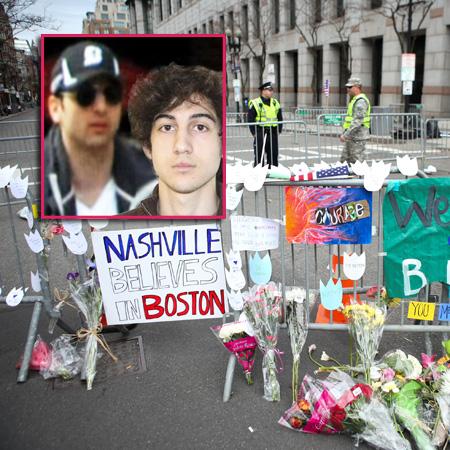 The surviving suspect in the Boston Marathon bombing has been released from the hospital and sent to a federal prison, as we learn that the brothers planned yet another attack -- this time in New York. Those are among seven new developments in the wake of last week's bombing at the Boston Marathon that left three people dead, more than 260 inured, and 14 people without all, or part, of a limb.
1. Suspect Released From Hospital, Moved To Federal Prison
Article continues below advertisement
Surviving suspect Dzhokhar Tsarnaev, who stands accused of planting the bombs with his late 26-year-old brother Tamerlan, was released from Beth Israel Deaconess Medical Center early Friday and transferred to Federal Medical Center Devens, a prison hospital located on an defunct army base about 40 miles west of Boston, according to the U.S. Marshals Service. The central Mass. detention center is used for federal prisoners in need of long-term medical or mental health care.
2. Tsarnaev Father To U.S. Soil
Anzor Tsarnaev, the father of both bombing suspects, continues to say he expects to leave for the U.S. in the next few days in hopes of bringing late son Tamerlan's body back to Russia for a burial, if authorities permit him to do so.
The father, who moved from the U.S. back to his native Russian province of Dagestan last year, said he wants to speak with investigators and find out more about the incident, as well as help his surviving son Dzhokhar with his defense.
Article continues below advertisement
Their mother Zubeidat remains undecided about whether to return, as she's concerned she'll be taken into custody related to a 2012 shoplifting charge. She said her attorneys have told her that the incident is not of concern with U.S. officials.
3.Brothers Planned Attack In NYC
Authorities in New York Thursday said that Dzhokhar Tsarnaev claimed he and his brother were en route to another attack -- in Times Square -- when they carjacked a man last week, but weren't able to make the 200-mile trip, as the car they stole didn't have enough gas.
The brothers, who decided at the last minute to make the trip, brought along a pressure-cooker explosive and five pipe bombs in hopes of creating more deadly mayhem, officials said. Their plan was thwarted when the carjacking victim they took hostage escaped and alerted authorities, resulting in the gun battle that left Tamerlan dead.
"We don't know if we would have been able to stop the terrorists had they arrived here from Boston," New York City Mayor Michael Bloomberg said. "We're just thankful that we didn't have to find out that answer."
Article continues below advertisement
U.S. Attorney spokeswoman Christina Dilorio-Sterling declined to comment if Dzhokhar Tsarnaev would face added charges related to the failed plot.
4. Trickle-Down Effect
In the wake of the bombing, changes might be made to the process in which the U.S. grants asylum to immigrants, as it had for the Tsarnaev brothers and their parents, Chechens who relocated here about a decade ago.
Rep. Bob Goodlatte, R-Va., who's at the center of the planned reform, said the modifications would place extra scrutiny toward "people ... engaging in aggressive tactics in their home country that may cause them to be susceptible to doing the same thing elsewhere.
"That obviously ought to be a part of our consideration in granting political asylum to avoid situations like Boston," he said.
Homeland Security Secretary Janet Napolitano told the Senate Judiciary Committee this week that the current asylum process is very thorough.
5. Fallout Continues
Heather Abbott, a 38-year-old Newport, R.I. native whose left foot was terminally injured by the first bomb, decided to have her leg amputated under the knee after doctors told her it would never return to its' previous form or functionality.
Article continues below advertisement
"When I weighed the pros and cons, I think this was the best option for me," she told reporters Thursday. "Although, certainly, it's not something I would wish on myself ... it's really not as bad as I thought it would or could have been. If someone had told me I would have half a leg, basically, at the age of 38 before this happened, I think I would never have believed it.
"I think I would have been devastated and I really haven't had a moment yet of being devastated because I've gotten so much support ... it is a life-altering experience."
Abbott's doctors say she'll soon begin physical therapy, then get fitted with a prosthesis.
"I really think I'm going to be able to live my life in a normal way eventually when I get that permanent prosthesis," said Abbott, a fashion lover who says she'll eventually be back in high heels.
6. Prioritizing Properly
The Boston Celtics play their first home game Friday since the bombing, and while they're down two games to the New York Knicks in the opening round of the NBA playoffs, coach Doc Rivers refuses to use the bombings as a motivational tool for his players.
Article continues below advertisement
"I don't do that: I don't use tragedy for sports," Rivers told USA TODAY. "I just don't think it's right. We want to win for the city. It would be terrific. But that is not anything I'm going to use in a press conference or with our players.
"We should want to win because we want to win -- if we win, it would be great for the city. That's as far as I'll go with it."
7. Bill O'Reilly's Outrage
Conservative commentator Bill O'Reilly said Zubeidat Tsarnev denying her sons' wrongdoings proves there is "nothing on Earth that can make that woman accept reality.
"And that's a big problem with the terror war," he said on The O'Reilly Factor Thursday. "No matter what proof, no matter of what you see with your own eyes -- there's going to be crazy people who deny reality, that the Islamic jihad is a threat to the world. No matter what you present, they're not going to accept it."
He added that "many in the Muslim world will never believe the Tsarnaev brothers committed the atrocity," noting there are scores of liberals "very disappointed the two suspects in the terror bombing are Muslim."
radar_embed service=5min.com src="http://pshared.5min.com/Scripts/PlayerSeed.js?sid=1126&width=570&height=351&playList=517758562&sequential=1&shuffle=0"