Exclusive
Ann Curry Feels 'Vindicated' By Book That Exposes How Matt Lauer & TODAY Show Humiliated Her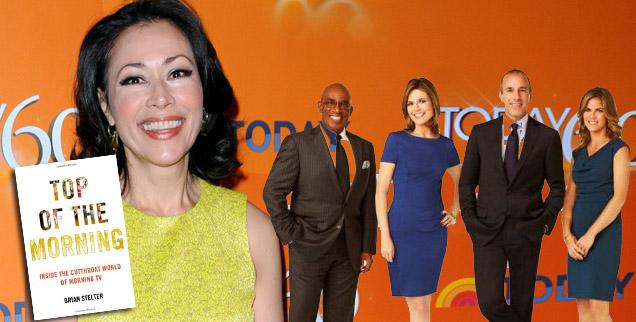 Ann Curry feels vindicated by revelations in a shocking new book written by New York Times reporter Brian Stelter that exposes how badly she was treated by her former colleagues of the TODAY show, including Matt Lauer, RadarOnline.com is exclusively reporting.
"Ann has been put through hell by her former bosses at TODAY and the network honchos. She has been bullied and made to feel like the ugly mean step-sister. She feels vindicated that even after she was fired from TODAY, the show continued to hemorrhage viewers," a source exclusively told RadarOnline.com.
Article continues below advertisement
"In fact, after she was sacked, Good Morning America's lead over TODAY increased, and the network lost at least $50 million in advertising. Ann would like to stop being a part of the TODAY ongoing soap opera. She feels that the negative publicity is hurting her work and gives NBC an excuse to keep her on ice."
As RadarOnline.com exclusively reported on Thursday, TODAY show execs were desperate to get their hands on a copy of Stelter's bombshell book so they could prepare damage control before the contents were leaked.
Article continues below advertisement
Among the juicy tidbits:
* When Curry — a Peacock Network employee of 22 years — forgot to bring her NBC badge to work at the network's 30 Rockefeller Plaza headquarters this past March (after her demotion), the security guard on duty made like he didn't recognize her, asking her for her name. She replied: "Ann Curry … A-N-N … C-U-R-R-Y."
* Curry was often the butt of sophomoric jokes — dare we say, bullying? — at the hands of TODAY show executive producer Jim Bell, who Stelter reported was a central contributor to "a general meanness on set" toward the veteran journalist.
Meanwhile, Curry "was relegated to doing an interview on Monday night after the Boston Marathon bombings, with a runner that had finished the race just before the explosions," the source revealed.
"Annie did the interview via video chat in New York City, with the runner who was still in Boston. Why in the world wasn't she on the ground in Boston? She is literally being kept holed away from going out into the field to cover breaking news."