Joan Rivers Tells Ann Curry "Shut Up, B**ch!"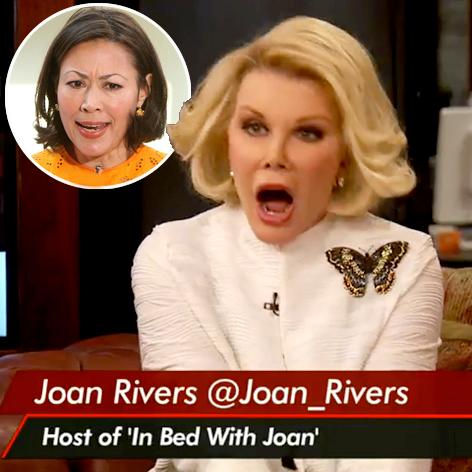 Joan Rivers has made Ann Curry her latest punchline, calling the former TODAY anchor a b**ch and mimicking how Curry's interviews put her to sleep!
When asked about the endless Today show drama, the comedienne surprised HuffPost Live host Marc Lamont Hill by bashing Curry, who was let go from the show last year admidst rumors that her former co-host Matt Lauer was behind the dismissal.
Mocking the anchor's emotional interviewing style, raging Rivers said, "Ann Curry? With all due respect--" and then made a loud snoring sound. She went on to poke fun at how Curry would respond as an interviewer if Hill said he liked coffee: "Do you reeeeeallly like coffee? REALLY? That's making me cry that you like coffee." Rivers then dabbed fake tears from her eyes.
Article continues below advertisement
"I used to scream at the set, 'Shut up, b---h!' "
Although Lauer has been blasted for months for Curry's ouster and the ratings nosedive at Today, Rivers said, "I think they're blaming it all on him and it's very unfair." Still, she threw Curry a bone, saying, "she's a very nice woman and I've heard Matt is a toughie."
The Fashion Police host said that the real problem at the tarnished Today Show stems from how "it's being run by a lot of white men" who went to Ivy League schools and "didn't keep up with the times." Rivers declared, "You can't sit on your laurels." Today's morning show rival Good Morning America, on the other hand, "is kicking butt," said the comedienne.