Titanic Discovery! Violin That Was Played As Doomed Ship Went Down Found In Attic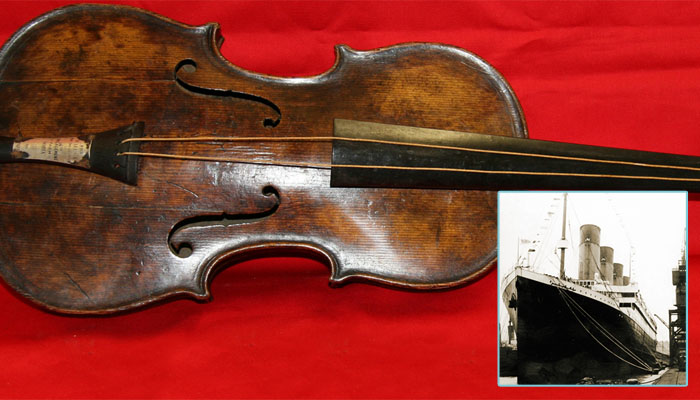 And the band plays on.
The violin that was played by the Titanic's bandleader as the ship sank has been uncovered, a British auction house announced Friday.
Wallace Hartley went down with the infamous "unsinkable ship" and it was previously believed that his beloved violin had gone with him.
But in 2006 Hartley's violin was unearthed in an east Yorkshire, England attic. The owner then reached out to Henry Aldridge & Son, an auction house that specializes in Titanic artifacts.
Article continues below advertisement
"It's been a long haul," auctioneer Andrew Aldridge told the Associated Press as he explained that it took seven years to positively identify the incredible instrument.
An inscription on the violin helped the auction house with the identification.
"For Wallace, on the occasion of our engagement. From Maria," it reads.
Aldridge & Son also had the violin forensically tested and worked with Hartley's biographer to find out how the instrument ended up in Yorkshire.
According to documents uncovered by the auction house, Hartley's body was recovered from the oceanliner's wreckage with his violin strapped to him in a leather bag.
After salvagers found Hartley, the violin was returned to his fiancee - it then landed in the care of the Salvation Army before being given to a violin teacher.
Now, the famous fiddle, estimated to be worth nearly half a million, will go on display at Belfast City Hall later this month, Henry Aldridge & Son said.