'Pi** On Her!' Teen Reveals Shocking Taunts Of Boys Who Witnessed Steubenville Rape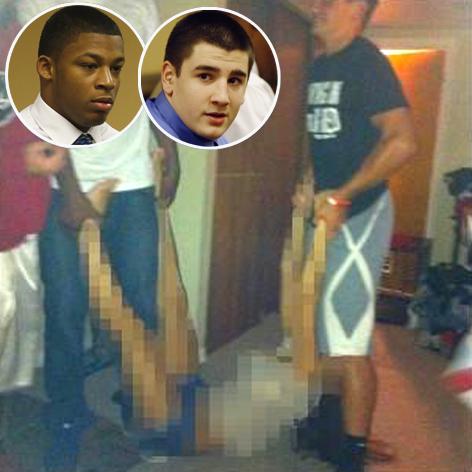 Further details of the night an incapacitated 16-year-old girl was raped by two Big Red high school football players in Steubenville, Ohio have been made public.
And they show the shocking extent to which the teen's friends and peers stood by and allowed her to be violated.
In a sickening admission one boy admitted he even witnessed a gang of boys goading each other to urinate on the girl who was so drunk she had vomited on her own blouse.
Article continues below advertisement
ABC's 20/20 aired exclusive excerpts of never-before-seen footage of fellow students telling police what they did – or rather didn't do – in August 2012 as the victim was paraded at three parties during a night of drunken debauchery.
In a taped interview with police the victim's best friend says she left the girl known only as 'Jane Doe' with Trent Mays, 17, and Ma'lik Richmond, 16, the two football players convicted last week of raping her.
The unidentified friend says she begged her pal – whom she says was so drunk she "couldn't…walk" – to go home with her. After the West Virginia teen refused she just left without her.
She told police: "I just let her do what she wanted, which I understand was wrong."
According to 20/20, Jane Doe had become intoxicated after drinking a "red slushy spiked with vanilla vodka, a Smirnoff malt liquor and several shots."
Article continues below advertisement
Outside the second party the teens went to that night she was so drunk that while sitting in the street she threw up over her clothes.
As a group of boys watched and laughed, one student offered $3 to anyone who would urinate on her.
When interviewed by police one boy said: "I just…heard people go: 'Pi** on her, pi** on her'."
He also admitted: "She was a mess…She was passed out."
As RadarOnline.com previously reported Mays will serve at least two years and Richmond, one, in a juvenile detention center.
You can watch the interviews aired on the 20/20 special HERE.