Live Like A Billionaire! Snap Up The Breathtakingly Opulent Pierre Penthouse For $120 Million - Take A Peek Inside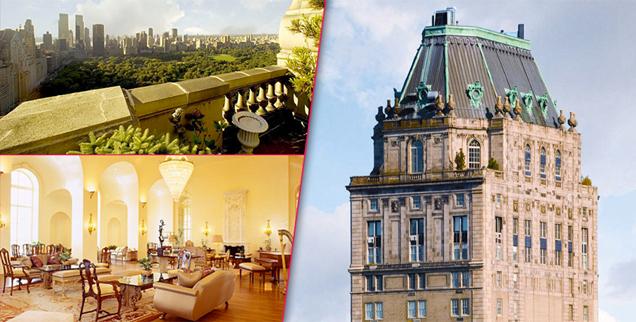 Got $120 million in loose change laying around?
If so, you can become the proud new owner of one of the swankiest New York City pads ever to hit the market, which is set to break records with its mammoth price tag, and RadarOnline.com can offer you a peek inside, courtesy of Curbed.com.
With its own ballroom, a total of four terraces and breathtaking views of Central Park, the historic three-story Pierre penthouse covers 12,000 square feet in total.
Article continues below advertisement
It sits on the top of the swanky Pierre Hotel and was last owned by billionaire investor Martin Zweig, who died last month at the age of 70.
Zweig – who predicted the 1987 stock market crash – bought the pad for $21.5 million back in 1999. But according to experts, his wife and children are intending to sell it for at least five times that amount.
A source told The New York Post that the amazing abode, which is located at the highly desirable NYC location of Central Park at Fifth Avenue, "could sell for $100 million to $120 million or higher."
Its reputation precedes it. Huge sparkling chandeliers grace the ceilings of many of the 16 rooms; there are five huge fireplaces and the 2,800 square foot grand salon is reported to be legendary.
In 2004, Hall F. Willkie, president of real estate appraisal company Brown Harris Stevens, told Curbed.com: "I'm very familiar with ALL the great apartments of New York and I believe this is the most important room in private ownership."
And if the penthouse does sell for $120 million it will become one of the most expensive properties in the U.S.