Exclusive
Gambling On Their Marriage? Nik Richie & Shayne Lamas Heading For Sin City Showdown!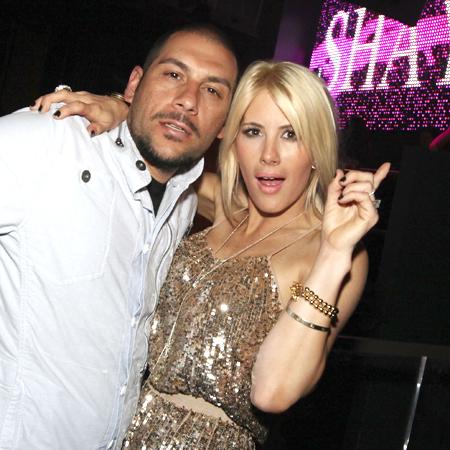 Nik Richie and his estranged wife, Shayne Lamas, are heading for a Sin City showdown this weekend as speculation over the state of their deteriorating marriage continues to mount, RadarOnline.com is exclusively reporting.
On Tuesday, the 34-year-old founder of controversial website TheDirty.com was laying low at home, playing the role of family man, posting a super cute photo on his Instagram account of the couple's adorable daughter, Press, cuddling up to her doting daddy -- meanwhile, parenting appeared to be the last thing on the mind of his reality star wife -- as she partied like a rock star 270 miles away in Vegas!
Article continues below advertisement
The blonde beauty was spotted living the high life, hitting the blackjack tables at the swanky Bellagio, looking every bit the fun loving single girl on the prowl, rather than a mother-of-one distraught over the possible end of her marriage.
"Shayne looked like she did not have a care in the world," an eyewitness tells Radar. "She was dressed to the nines, perfectly made-up and coiffed and definitely was NOT acting like a married woman. She was with a hot brunette chick, and they were working it! I saw them flirting with several different guys and both were drinking heavily.
"I went to eat dinner at one point, -- but when I came back they were still at it, and they both looked sloppy drunk. Shayne was belly up to a blackjack table and playing $150 hands, she was talking to some dude next to her, and they were laughing about how she had ripped her 'dumb husband' off for 30 grand, by arranging a line of credit in his name!
"And she was blowing through the money like a pro -- when I left at 3 am she was still going strong! I don't know her husband, but if that was me I would be pi**ed!"
MORE ON:
Celebrity Romance
Article continues below advertisement
Hopefully, Richie will be able to hang on to the rest of his cold hard cash until he gets the chance to resolve the warring couple's marital issues -- which has so far proved impossible as Lamas refuses to even answer his phone calls.
However, it seems the 27-year-old may soon have no choice when it comes to facing her hubby of three years, as Richie is booked to host a Spring Break Weekend event at 1Oak in the Mirage, Friday night.
As RadarOnline.com previously reported, Lamas was hospitalized last week, claiming she was suffering from "marital stress" caused by Richie's non-stop club carousing.
Thankfully, it seems Shayne has since managed to make a full recovery -- and appears to now be giving her hard partying hubby a bona fide run for his money!
When reached for comment, publicity loving Richie appeared, uncharacteristically, to be at a complete loss for words, telling RadarOnline.com, "I have no comment right now on my marriage, or on what my wife is doing."