EXCLUSIVE PHOTOS: Reality TV Star Shayne Lamas Shows Off Big New Boobs!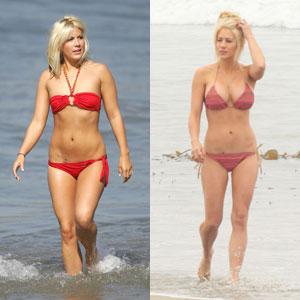 Reality TV star Shayne Lamas proved she really is larger than life when she showed off what look like her bouncing new breast implants in a skimpy bikini on Thursday.
The blonde bombshell appears to have gotten plastic surgery to boost her modest cleavage to an eye-popping DD and seemed happy to flaunt her fuller-figure as she walked along the beach with new husband, Nik Richie.
Reality Star Shayne Lamas Busted For DUI; Read The Booking Sheet
Article continues below advertisement
Richie certainly got more than he bargained when he eloped with Lamas, 24, in Las Vegas last April after knowing her for less than a week, but the web entrepreneur looked more than satisfied with his new-look wife as he strolled hand-in-hand with her. 
The marriage is more successful than Lamas's previous high-profile relationship. As the winner of the 12th season of The Bachelor, Shayne was engaged to British hunk Matt Grant for two weeks before their not-so-shocking split.