Hey You! Get Out Of My House! Mick Jagger 'Furious' At Jerry Hall For Airing Financial Woes — Battling Over Marital Mansion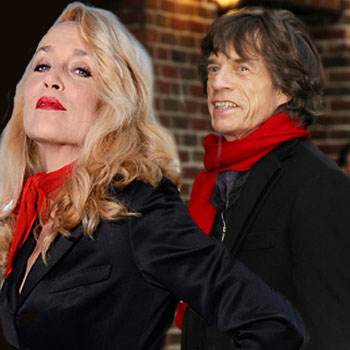 They annulled their one-year marriage in 1999 after being together for 14 years, but Mick Jagger and Jerry Hall are still at loggerheads — this time over money — and RadarOnline.com has all the details.
The Rolling Stones rocker is reportedly fuming that his ex-wife is publicly airing their financial woes as they bitterly battle it out over their former marital home.
For years the couple managed to keep their domestic issues under wraps but their latest fight over their $15 million mansion in the U.K. has made –international headlines and Jagger isn't happy about it, according to a new report on the Mail Online.
Article continues below advertisement
Hall, who has been living in the palatial townhouse since the couple's split, is reportedly demanding Jagger sign over the property - which is currently a mutual asset – solely to her.
She is also keen for him to give their four children together, Lizzie, 29, James, 27, Georgia, 21 and Gabriel, 15, a leg up on the property ladder by helping to pay for houses for them too.
However Jagger, 69 - who is worth around $300 million - is infamous for his overly frugal ways with money -- and is insisting the children finance any property purchases themselves.
Jagger and Hall bought the under dispute house in the affluent London suburb of Richmond Upon Thames in 1991 when Hall was pregnant with their model daughter, Georgia.
Mail Online report that Hall, 56, plans to sell the 26-room mansion to help fund her retirement -- they originally purchased it for $3.7 million.
The musician's spokesman refused to comment simply stating: "This is confidential."