Paramedic & Victim Of Brutal Stabbing Find Love After The Fact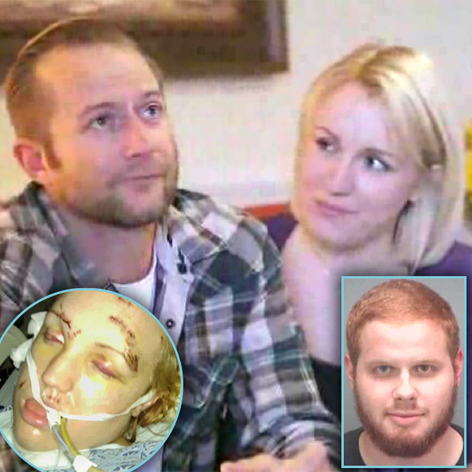 In contrast to the horrific details spilling out of the Jodi Arias trial, we bring you a story involving a gruesome stabbing, a damsel-in-distress, and thankfully in this case, a happy ending.
Meet Melissa Dohme: The Clearwater, Fla. native met her current boyfriend, paramedic Cameron Hill, after she was stabbed 32 times by ex Robert Lee Burton Jr. on Jan. 24, 2012, nearly dying with her face, head, hands and arms slashed and bloodied.
Article continues below advertisement
"I don't know why, but I knew I'd see her again," Hill, a 38-year-old Clearwater firefighter-paramedic, told the Tampa Bay Times. "I believed she would live."
Hill was among the first to respond to the rescue call, and said that he could tell Dohme, 22, had blonde hair, despite the crimson mask of blood she was wearing after the attack.
After a three-week hospital stay - in which she flatlined four times and had a stroke - Dohme eventually healed, and began sharing her story with others as an inspirational figure.
"I know it's a miracle that I am still here," Dohme told local news show Bay News 9 earlier this month. "Even the trauma doctor in his notes wrote, nothing short of miraculous."
Hill and Dohme finally crossed paths last October, when they traded numbers after she delivered a speech at a local church.
"I was weirdly giddy … I had this feeling about him," Dohme told the paper. He asked her out, and the two have been a happy couple ever since.
In the meantime, the wheels of justice continue to turn against her ex Burton, her one-time high school sweetheart who currently faces charges of first-degree attempted murder.
"When I look back on that night, I can't think of it as all bad anymore because I met Cameron," Dohme told the paper. "He's the one I've been waiting for. My fairy tale."