Exclusive
Half Of Africa's Lions Facing Extinction - Inside One Woman's Fierce Fight To Stop Their Slaughter For Body Parts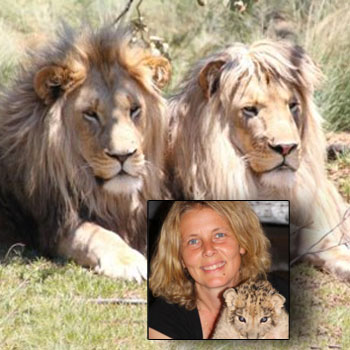 Article continues below advertisement
Thankfully for South Africa's giant felines, Andi Rive, Love Lions Alive Project Initiator and General Manager of Glen Garriff Lion Farm in Harrismith, Free State Province, has vowed to wage a bitter war on behalf of her beloved wildcats -- starting with protecting them from the huge demand for lion body parts -- and RadarOnline.com has exclusive details on her fierce fight.
"The big thing that is happening here in South Africa that isn't really publicized around the world is that lions are being euthanized by the hundreds and exported into the Far East because their body parts are meant to give men stamina and virility," Rive explains in an exclusive interview.
"Lions are being bred and raised just to be cut up, one woman sold six of our boys in the brief period before I came here," reveals the outraged farm manager, who took over Glen Garriff two years ago after owner Pat Shannon became ill.
"I had a lion die here last year - he was an amazing white male at the top of our hierarchy called Snowman - and I was offered huge amounts of money for his body," Rive says. "I was threatened many times by the traders but instead we buried every part of his body here under a willow tree to let the world know that our lions live with dignity and die with dignity.
Article continues below advertisement
"I even had people try to break in here and steal his body or pull out his teeth," she adds.
Rather than being illegal, the sick trade is completely above board and macabre merchants buy the parts from breeders who claim they "humanely euthanize" the animals.
"They get permits from the nature conservation to breed, kill and sell lions easily," explains Rive. "I am finding it harder NOT to kill them because everyone wants me to."
Along with the growing demand from Asia for their supposed empowering essence, lion populations are under attack from inbreeding.
"In the next decade, half the population could be wiped out due to genetic inbreeding amongst the lions in South African game reserves," the farm manager, who cares for 70 thoroughbred lions tells Radar.
"You can see that they squint or are dwarfed and there are genetic problems in them.
"We have seven distinct lineages here at Glen Garriff to maintain the genetic purity of the lions because we believe that one day they will become vital to saving the gene pool in South Africa."
According to a new report from National Geographic, there are only 32,000 lions remaining in Africa compared to the 100,000 that dominated the continent in the 1960s, with West Africa being the hardest hit.
Visit the Love Lions Alive Project for more information and to support Andi Reve in her fight to save the wild lions of South Africa.