Exclusive
La Toya Is 'Absolutely Not' Exploiting Michael Jackson's Kids — Never Tried To Profit From Them In Any Way, Says Source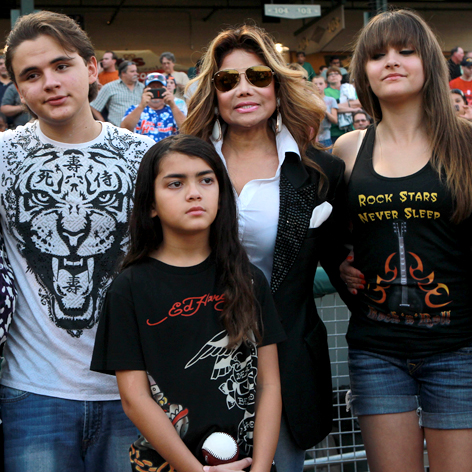 La Toya Jackson has been slammed in various media reports - accusing the 56-year-old of attempting to exploit her late brother Michael's children for financial gain - but multiple sources tell RadarOnline.com exclusively that's categorically false and insist the Celebrity Apprentice star isn't trying to score a reality TV show for the family.
"La Toya loves Prince, Paris and Blanket very much and they trust her implicitly," one source says. "She has never tried to financially profit from them in any way, shape or form.
Article continues below advertisement
"The kids regularly ask La Toya for advice and guidance as they begin to test the waters for possible careers in entertainment, and she always obliges, but never for any kind of financial return. What most people don't realize is that La Toya is actually very well off and has made a lot of smart investments over the years, she's more than capable of looking after herself financially."
As RadarOnline.com previously reported, the accusations of exploitation stem from a story that surfaced over the weekend claiming La Toya has signed the three kids to her talent agency.
However, La Toya issued a statement vehemently denying the report: "Neither La Toya nor her company represent any of MJ's children in any legal capacity nor has she received any commissions or payment as a result of their individual ventures. As a loving Aunt, when the children ask for help or advice she supports them 100%, and will continue to do so. Furthermore, there is no shopping of a reality show for the children."
Meanwhile, La Toya does have her own reality show, Life With La Toya, which will premiere on the OWN Network later this year — but, although the kids may be filmed from time to time during interactions with their aunt, they are not going to be a regular part of the show.
"The kids may appear on the show occasionally, but it won't be on a routine basis," the source says. "Cameras followed the whole family - including the children - last year when they went to Gary, Indiana to celebrate Michael's birthday. La Toya has never pressured the kids to appear on camera though, it's just not who she is."