Michael Jackson's Children Being Pushed For Reality TV Show By His Sister La Toya, Claims Report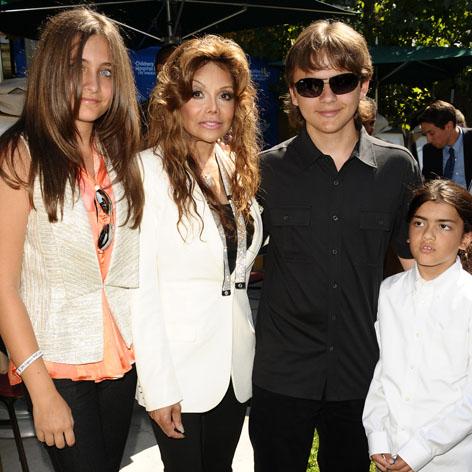 Michael Jackson's three children are being pushed for a reality TV show by the King of Pop's controversial sister, La Toya, according to a new report.
La Toya, 56, has signed Prince, Paris and Blanket to her talent agency, according to the New York Post.
Prince recently made his debut as a correspondent on Entertainment Tonight, and will soon appear on the TV show 90210.
Paris Jackson has signed a movie deal and will get her big-screen acting start shortly.
Article continues below advertisement
But a reality TV show featuring the three Jackson children is the big prize La Toya is actively chasing, according to the Post report.
According to the Post:
"The coup de grâce for La Toya, who gets a standard 15 percent commission on each deal, would be a reality TV show deal she's negotiating. Insiders said bidding has approached $10 million."
But there's one big problem: Paris isn't interested in a reality show, according to sources quoted in the article.
Whether or not La Toya can overcome that obstacle for a lucrative payday is still undecided but Katherine Jackson is unlikely or unable to stop her, the Post claimed.
Katherine was at the center of the family's public drama in 2012 when reports surfaced that she had been "kidnapped" by Janet and Jermaine Jackson, after they took her on a strange trip to an Arizona spa.
The Post claims that La Toya has quietly ingratiated herself with Michael's children as that drama, and other family issues played out in public.
According to the Post:
"She pounced while everyone else was making a lot of useless noise. It was her smoke screen, and she got it done," the insider said.
The OWN network was mentioned in the report as a possible home for the reality show.