When LiLo Met RobSten! Kristen Stewart And Rob Pattinson Befriend Lindsay Lohan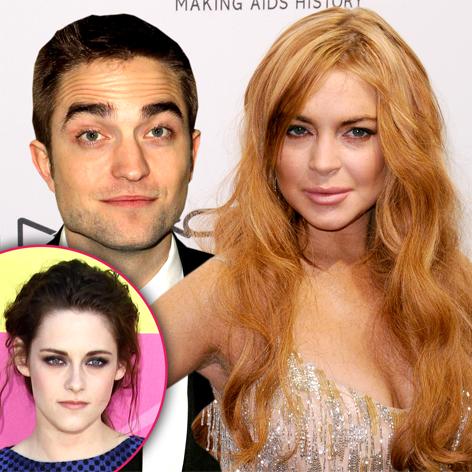 If birds of a feather flock together, paparazzi magnets Lindsay Lohan and Kristen Stewart must be having a fabulous time.
According to reports the Twilight star – who created a stir last year when she was caught cheating on boyfriend Robert Pattinson with married director Rupert Sanders – has befriended the troubled former child star.
A source tells the New York Post that the two actresses recently became pals and are hanging out.
Article continues below advertisement
"They met through one of Lindsay's friends who also knows Kristen," the source says. "Lindsay was invited up to Kristen's house last week and they hung out with Robert Pattinson, who was back from filming in Australia."
Over the past few years Lindsay, 26, has racked up more headlines for her legal woes and tangled love life than for her acting roles.
And when Kristen, 22, was snapped snuggling with her Snow White and the Huntsman director last year she prompted a media firestorm and a brief split from her Twilight co-star R-Patz.
The two actresses reportedly bonded over their negative headlines.
"Lindsay and Kristen discussed their careers, creative ideas and how they deal with living under the focus of the media and the paparazzi," the source says.
As RadarOnline.com previously reported, Lindsay has told her lawyer that she wants to start her court-ordered rehab after she attends the Coachella music festival in April.
"She didn't want a little thing like rehab to get in her way of attending," a source told Radar.