50 Days And Counting! Robert Pattinson Shunning Kristen Stewart While Filming Down Under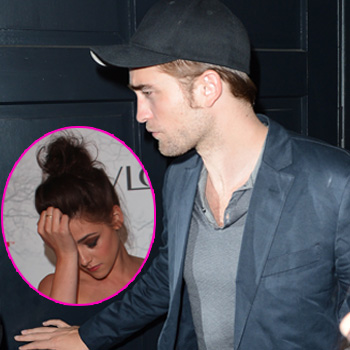 They may be miles apart, but Robert Pattinson doesn't want on/off girlfriend Kristen Stewart to visit him in Australia anytime soon, according to reports.
In Touch magazine claims that Robert, 26, has been reflecting on his relationship with his Twlight Saga co-star while in Adelaide filming his new movie The Rover.
"Rob doesn't want her to visit," a friend of the troubled couple tells In Touch. "He felt like they needed space. He wants a break."
Article continues below advertisement
And despite being 8,000 miles away, "Rob is really enjoying himself," an on-set source tells the celebrity gossip magazine.
On February 24, Robert was spotted at a bar near his shooting location munching on garlic bread and chatting with locals.
"He was relaxed and friendly," an eyewitness recalls. "He even complimented one waitress on her hairstyle."
But back in Los Angeles, Kristen can't help but think she's losing Robert for good as they continue to drift apart.
Article continues below advertisement
"Rupert's reached out to Kristen, but she doesn't want anything to do with him," a source told Radar.
"He texted her a number of times after Liberty filed for divorce, however Kristen didn't respond.
"In truth, she regrets ever getting involved with Rupert, because of how much it hurt Robert and the amount of public backlash she was subjected to.
"Kristen doesn't really know what's going on with her and Robert at the moment, and she's been left in limbo. Ideally, she would like things to go back to how they once were, but that's proving a lot more difficult than she imagined.
"But when it comes to Rupert, that ship has sailed," the source revealed.