'I'll Be The Oven For Her Bun!' Kourtney Kardashian Offers To Be A Surrogate For Sister Khloe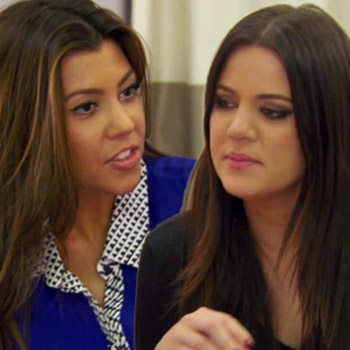 Her sister is struggling to have a baby and now Kourtney Kardashian is offering to be a surrogate for Khloe and her husband Lamar Odom.
The 33-year-old makes the touching offer in the upcoming episode of Kourtney & Kim Take Miami, which airs on E! on Sunday.
The generous gesture comes after – earlier in the show – Khloe tells stepbrother Brandon Jenner and his wife Leah Felder about her fertility problems.
Article continues below advertisement
Hearing this Kourtney speaks to her boyfriend Scott Disick and consults a doctor to see if she could help her sister and brother-in-law have the child they so desperately want.
The mom-of-two tells the camera: "Now that I know I'm a good candidate and that Scott is supportive, I will be the oven for her bun if she shall need it."
She then tells her sister: "I was overhearing you talking to Brandon and Leah.
"You were telling them that you don't know if your body can carry a child or something – that if one treatment doesn't work then you won't be able to.
"So I just wanted to say that if you did need someone to carry your child that I would volunteer my services. I would do that for you…
"I called the doctor. I got all the info."
Touched by her sister's offer, a giggly Khloe says: "That's very nice of you but you don't think that's a little awkward?"
She later adds: "You would push my baby out of your vag?"
Once alone Khloe tells the camera: "I think it is very sweet that Kourtney offers to have my baby in her small uterus!"
To see the full story unfold watch Kourtney & Kim Take Miami on E! this Sunday at 9/8c.