Kim Richards Flips Out As Lisa Vanderpump Questions Her About Drugs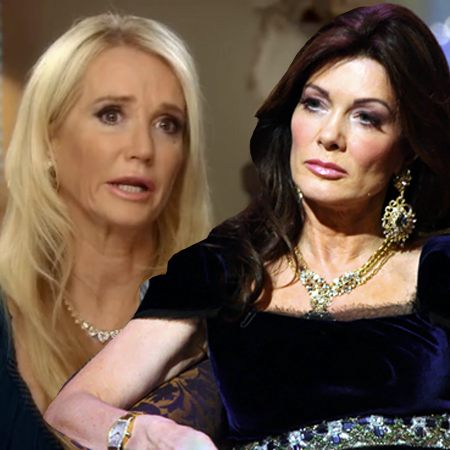 Kim Richards' bizarre behavior on Monday's edition of The Real Housewives of Beverly Hills clearly startled castmates Lisa Vanderpump, Brandi Glanville and Taylor Armstrong, all of whom took to their respective Bravo blogs to vent their thoughts on the events that took place as the ladies traveled to France.
On Monday's episode, the ladies took notice when Kim, a recovering alcoholic, was behaving erratically on their trip. At one point, she nearly missed a private cooking class, spurring concerns she'd taken too prescription medication. When Lisa questioned her about it, Kim snapped at her.
Article continues below advertisement
On her blog, Lisa wrote that the cast was "acutely aware" of "a significant change in Kim's behavior, but couldn't quite understand what exactly was responsible for the shift.
"I knew she wasn't drinking, for sure, and I support her a 1000 percent in her struggle with sobriety," the new Dancing with the Stars cast member wrote. "But she seemed sleepy, lethargic, rambling, and almost incoherent at times.
"We waited for her for a substantial amount of time, which in the past had been a bit of a ritual and finally she joined us."
Lisa said that while she was naive in asking Kim if she'd taken a sleeping pill -- not realizing she was essentially accusing her pal of relapsing -- she still found Kim's response to be overly "emotional and volatile."
Brandi concurred with Lisa about Kim's seemingly loopy behavior, saying the former child star "seemed very unstable during our Paris trip, and we were all worried about her.
Article continues below advertisement
"Kim seemed fine one second and then completely off the next," Brandi wrote. "We were all very concerned about her … Lisa was truly concerned, but Kim took it as something it wasn't."
Taylor, whose own issues with the bottle have been under scrutiny as of late, did not go on the trip, but still commented on the episode all the same, saying she "was bewildered by Kim" and her behavior throughout the Parisian getaway.
She said she "was nervous for Kim," "knew something wasn't right with her," and had a "pit in her stomach seeing her not lucid.
"As viewers and as friends, we have only seen slight glimpses of the destruction this disease has caused Kim and her entire family," Taylor wrote. "We all love Kim and want her to be healthy and happy. Any sign that she may not be on the positive path she has been on since her treatment evokes concern from everyone in the group. Kim has said that everyday is a struggle and we are all so proud of her for each day she succeeds."
As for Lisa, Taylor said while she can be "brutally honest," it all comes from a caring, well-intended place.
"It wasn't right for Kim to question Lisa's concern for her when Kim was clearly disoriented," she wrote. "When the age old question emerged -- Where's Kim? -- it became clear that Kim's recollection of the day's events were quite different than reality."
We'll see how Kim works through her troubles when The Real Housewives of Beverly Hills returns on Bravo Mondays at 8/7c.