Exclusive
I Coulda (I Shoulda) Been A Contender! Real Housewives 'Green With Envy' Over Lisa Vanderpump's DWTS Gig!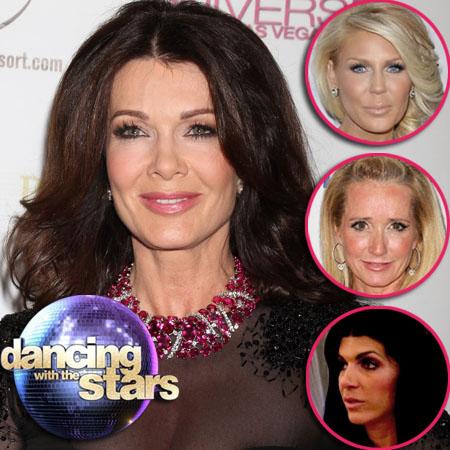 Brandi Glanville was right -- sometimes women just can't be happy for other women!
With the surprising announcement that Lisa Vanderpump is to be the very first Real Housewife ever to compete on Dancing with the Stars, RadarOnline.com has exclusively learned that the other ladies in the hit Bravo franchise are green with envy!
The 52-year-old British star of The Real Housewives of Beverly Hills will be competing for the coveted mirror ball in the upcoming season 16 of the popular ABC show, but her selection has caused many of the women to question why THEY weren't the one selected first!
Article continues below advertisement
"Everyone was kind of fine with not being considered all the time they knew Housewives had been banned from appearing, but now that Lisa has broken that glass ceiling there are a lot of hurt egos," a source exclusively tells Radar.
"Kim Richards had been begging people to get her on the show forever," the source says.
"So were Gretchen Rossi, Heather Dubrow and Teresa Giudice!"
Meanwhile, the source says the reality stars' jealousy has sent shock waves all throughout the Housewives franchise, with a lot of the women being pretty nasty and catty about Lisa.
"A lot of the women are furious," the source says. "There are a lot of egos that have been bruised and a lot of cast members truly believe it should have been THEM, and not Lisa selected to compete.
"There's a lot of griping going on, and more than one or two women have asked, 'who did Lisa sleep with to get on the show?!!'"
Do you think Lisa should of been the first Real Housewife selected to compete on Dancing with the Stars? Tell us in comments!