Kate's Fighting On Twitter Again! Gosselin Demands Man With Same Last Name Change His!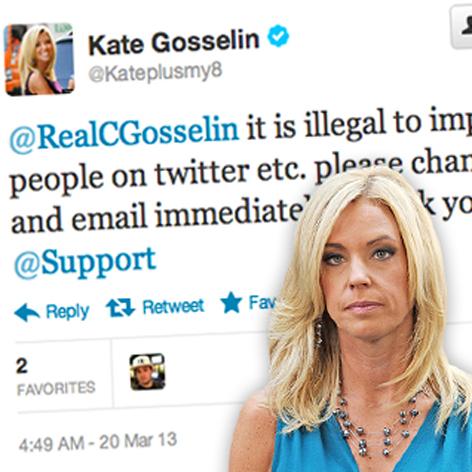 Kate Gosselin is at it again – fighting on Twitter and this time she's demanding that a man with the last name Gosselin change his immediately!
The Kate Plus 8 star is known for her intense battles on line, and this time her target is a man named Carlos Gosselin.
"@RealCGosselin it is illegal to impersonate people on twitter etc. please change your ID and email immediately. Thank you. @Support" Kate tweeted, causing another on-line fiasco!
Article continues below advertisement
Carlos Gosselin hit back at the reality show mom, writing "@Support hey can you tell Kate Gosselin to take accept that. There it other people with the same last name. She got her panties in a wad."
He seems to have a good sense of humor about the situation, writing "So I woke up to this and laughed my ass. Not only that. But it made my whole morning complete. Let me put it up in a picture."
Carlos, clearly not trying to impersonate any of Kate's young children, sent a joke Tweet back to her, saying: "Love you mom."
So far he hasn't changed his name or his email address!
Kate is now responding to her initial hysteria, sending two Tweets to Carlos:
"The per impersonating my child(CGosselin) tweeted 'love you mom' 2me.Whether he really has last name or not,it's impersonation w that tweet!" and "And if it was meant as a joke to me, then I missed the joke--busy being a mom and am CONSTANTLY dealing w ppl impersonating my children! :/"