Exclusive
Justin Bieber Threw 'Massive Hissy Fit' When His Mom Wanted Him On The Cover Of Her Book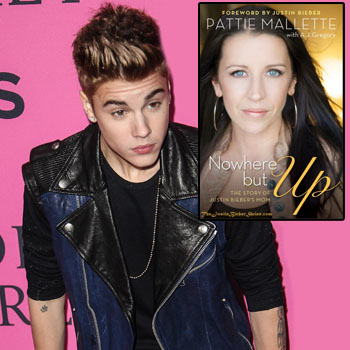 Justin Bieber refused to be on the cover of his mom's tell-all book detailing her journey through drug and alcohol addiction and threw a hissy fit when she asked him, a source close to the situation exclusively told RadarOnline.com.
While Pattie Mallette still had her book deal for Nowhere But Up: The Story Of Justin Bieber's Mom in the works, the publisher allegedly wanted her famous son on the cover to draw sales. So, she agreed without the Baby singer knowing and when she finally asked him, a screaming match ensued, the insider revealed.
Article continues below advertisement
"When Justin's mom initially signed her book deal it included an agreement that Justin would appear on the cover with her, but she signed this deal without his consent," the insider told Radar.
"When things with her book finally started coming to fruition, she approached him about being on the cover and he threw a massive hissy fit. Justin felt like it was unfair to him."
The source said Justin broke down and screamed at his mother — finally having to have his manager, Scooter Braun, break it up.
"It was literally a screaming match in his dressing room and Scooter had to step in and tell them that it was not the appropriate time or place," the source said.
"He finally broke down closer to the release of the book and agreed to do a press junket with her for the big outlets to promote it, but the whole thing was so awkward and uncomfortable."
Despite Justin throwing a tantrum over appearing on the cover of his mother's book, the source said it's because the 19-year-old Canadian has worked hard to be where he's at in his career and is tired of people taking advantage of him — family or not.
"Justin knows that Pattie has a completely unrealistic existence thanks to him. She was a part of the process, absolutely," the source acknowledged to Radar.
"But the little sh*t does work his ass off."