Jodi's Bizarre Behavior! Arias Sings & Does Handstands Minutes Before Being Charged With Murder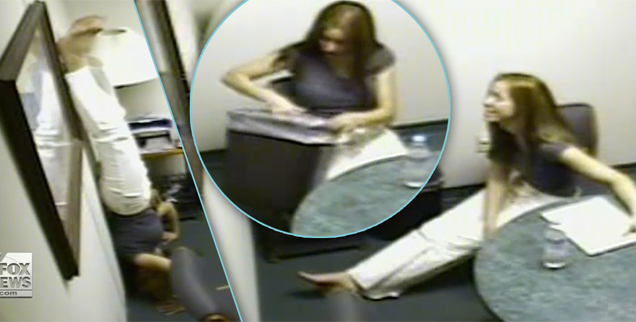 We've seen Jodi Arias acting strangely during her closely watched murder trial in Phoenix, Arizona, but in just-released video, the 32-year-old admitted killer "jumps the shark" when it comes to odd behavior, and RadarOnline.com has the twisted tape.
In the must-see video - obtained by Fox News - Arias sings, laughs, talks about her makeup, and even does a 20-second handstand immediately after a prosecutor leaves the room after interrogating her for four hours on June 15, 2008.
Article continues below advertisement
Minutes after the video was shot, Arias would be charged with the brutal murder of her on/off again lover, Travis Alexander.
What makes the video even more compelling is that only 15 minutes prior to her bizarre antics, Arias was sobbing during the police interrogation, during which she repeatedly lied to investigators and kept changing her story.
As RadarOnline.com previously reported, this past week Arias wrapped up 18 intense days on the stand, in which she claimed she repeatedly shot and stabbed Alexander in his Mesa apartment only as an act of self defense.
Arias has said she doesn't remember exact details of the murder, and on Thursday psychologist testified for the defense that jurors should see Arias' unusual behavior in context.
"A large percentage of individuals who are in such settings do not remember or have cloudy or foggy memories of what has transpired," Richard Samuels told the court. "We are more concerned with survival."
Samuels said he specializes in "sexually violent perpetrator evaluations, psychosexual risk assessments, sexual harassment and gender discrimination matters."
Samuels testified he has met with Arias a dozen times and eventually diagnosed her with post-traumatic stress disorder.
"There are many people that never remember the actual events," Samuels told the jury.
Strangely in the 2008 video, Arias is heard singing a song with the lyrics, "it might change my memory."
The trial is set to resume on Monday. She could get the death penalty if convicted.