Hit & Run Driver Who Killed Husband, Wife & Baby, Apologizes, 'My Heart Goes Out To Them'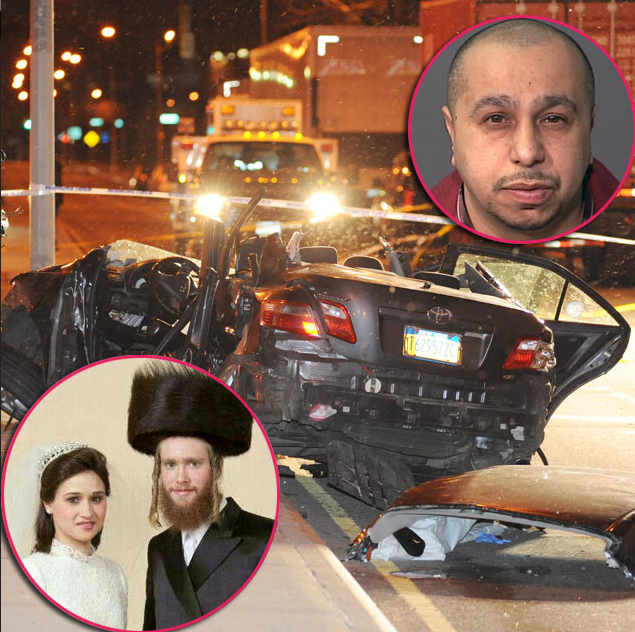 The driver who allegedly killed a whole family in a devastating hit-and-run on Sunday morning has expressed his sorrow at the triple deaths he caused, but he still hasn't turned himself into the police.
"My heart goes out to them," fugitive suspect Julio Acevedo said in a phone call to the New York Daily News on Tuesday.
"I didn't know they died until I saw the news," claimed the 44-year-old suspect, who said he was fleeing from gunshots at the time of the impact, which is why he didn't stop to help the dying couple. "I was scared. I just got shot at," he added.
Article continues below advertisement
Acevedo has been called "New York's Most Wanted Man" since the BMW going 60 mph smashed into a taxi taking Brooklyn couple, Nachman and Raizel Glauber, both 21, to the hospital because the expectant mother was experiencing mystery pains.
The violent crash sent the engine of the Toyota Camry livery cab into the back seat, where Raizel was sitting before she got flung out of the car, with her body landing on a parked tractor-trailer. Her husband was pinned inside the vehicle and emergency crews had to cut him out, but sadly they were both pronounced dead from blunt-force trauma at the hospital soon afterwards.
Their alleged killer, who has a long rap sheet that includes a 1987 manslaughter conviction, plus drug and gun charges, told the Daily News that he is going to turn himself in once he has spoken to a lawyer.
The Orthodox Jewish couple's baby was delivered prematurely weighing just three pounds at Bellevue Hospital and treated in intensive care during his brief lifetime, which tragically ended on Monday.