Billionaire Divorce! Oil Businessman Faces Biggest Settlement EVER!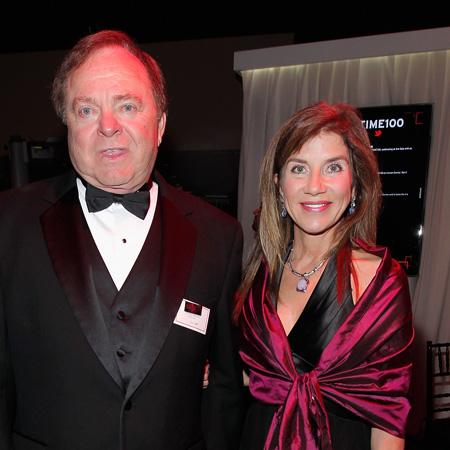 One of America's wealthiest businessmen is embroiled in a nasty divorce that could spark the biggest divorce settlement in U.S. history.
Harold Hamm, chief executive of oil giant Continental Resources, is facing losing a large portion of his $11.3 billion fortune to his estranged wife Sue Ann Hamm who filed for divorce, alleging that her husband "was having an affair" in 2010, court papers obtained by Reuters say.
Article continues below advertisement
The pair married in April 1988 and have two children, Jane and Hilary. Harold, 67, has three children from a prior marriage that ended in divorce in 1987.
In the new sealed docs, filed on March 7, it's unclear if a prenuptial agreement was ever signed. But if there wasn't, legal analysts have claimed that the case could lead to a record-breaking financial settlement that could exceed the $1.7 billion News Corporation founder and chairman Rupert Murdoch paid to ex-wife Anna in 1999.
"I don't know of anything that's ever been this big," Barbara Atwood, a professor of family law at the University of Arizona, tells Reuters.
"There's just so much money involved."
The settlement could include a split of "marital property," as well as dividing Harold's controlling 68% stake in Continental.
Sue Ann, 56, has previously worked at Continental in a number of key posts. She has led oil-industry trade groups in Oklahoma, testified to Congress on behalf of Continental and created Continental's oil and gas marketing units. However, she is no longer with the company, her lawyer confirmed.
Article continues below advertisement
The firm enjoyed a massive growth during Harold's marriage to Sue Ann. Its share price surged almost 500% in the five years since an initial public offering in 2007.
According to Oklahoma family law, wealth accrued through the efforts of either spouse during a marriage would typically be subject to "equitable distribution" between the parties.
"A court in Oklahoma may look closely at what each party has contributed," Atwood reveals. "But it sounds to me like both spouses here were working hard in the business.
"Where there are concerns about company control in a settlement, a spouse would usually get paid the value of the shares."
Court records indicate divorce papers were first filed by Sue Ann in May 2012. However, Oklahoma court records suggest there could have been troubles earlier in the marriage.
In 1998, Harold filed for divorce, insisting that Sue Ann undergo a psychological evaluation. He withdrew the divorce petition and that case file was destroyed this year on February 13.
Article continues below advertisement
Then, in 2005, Sue Ann's seemingly volatile relationship with Harold took another turn when she filed for divorce, but that case was also dropped.
According to Harold, the couple "actually separated in the fall of 2005 and have lived separate lives ever since," the court papers state.
Sue Ann's attorneys claim that the Hamms "continued to reside together (although they do own four homes), travel together, attend public functions together, raise their children together, file joint tax returns, and work together."
"She has a leg up because she worked for the company and she can claim that a portion of her efforts went into making the company what it is today," Daniel Jaffe, the family law attorney who represented Ann Murdoch, tells Reuters.
"She was married to him when the value of the company went up. She has got to be looking for a couple of billion dollars."