Gwyneth Paltrow Cops To Major Fashion Faux Pas: Should Have Worn A Bra With Goth Oscar Dress!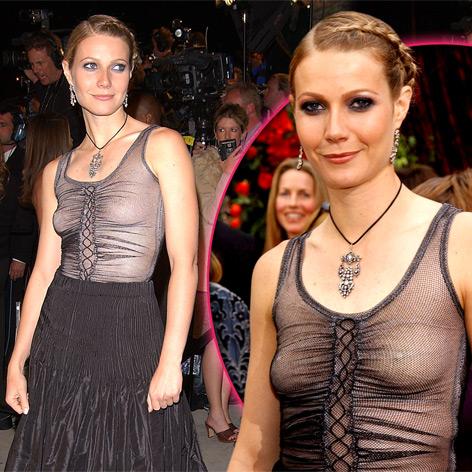 Gwyneth Paltrow's most famous fashion faux pas haunts her to this day!
The skinny blonde donned a sheer Alexander McQueen gown for the 2002 Oscars and her saggy breasts landed her on many Worst Dressed lists that year, and now she's finally admitting that she could have avoided the "glaring" mistake.
Describing the gown as "goth," Gwyneth wrote on her GOOP blog about how a piece of lingerie would have saved her look: "There were a few issues; I still love the dress itself but I should have worn a bra."
MORE ON:
Alexander McQueen
Article continues below advertisement
The shocking look for the Academy Award winner has become a legendary worst Oscar dress, but she says with a few minor tweaks she could have had the look she was going for.
"I should have just had simple beachy hair and less makeup," she said.
"Then, it would have worked as I wanted it to -- a little bit of punk at the Oscars."