Full Moon At The Airport! Gerard Butler Shows Off His Butt Crack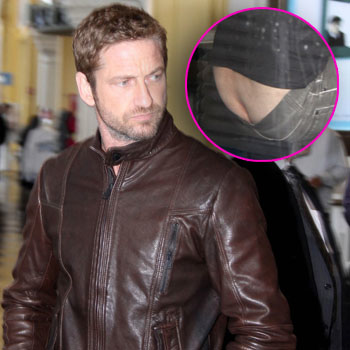 Talk about an embarr-ass-ing moment!
It was a mortifying day for Gerard Butler at the Reagan National Airport in Washington D.C. on Thursday, where the Olympus Has Fallen actor leaned down to tuck his pants into his boots and exposed his bare bum – and RadarOnline.com has the photos!
Butler, who admitted this week that he didn't know Brandi Glanville's name when he bedded her after meeting at a Malibu beach party, was squatting down to put his shoes back on at TSA when his designer trousers slipped a little too low and showed off his buns.
Article continues below advertisement
The actor, who Glanville gave an "11" out 10 in bed, has been in New York promoting his upcoming film.