Exclusive
CNN Diva Alert! Erin Burnett Playing Too Hard To Get By Calling All The Shots, Jeff Zucker Looking For Other Options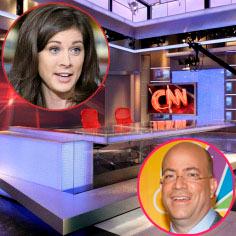 Erin Burnett was officially offered the CNN morning anchor spot, but she decided to change the deal midstream after shaking hands, leaving everyone -- including newly appointed president, Jeff Zucker -- uneasy about where mornings stand for the struggling network, RadarOnline.com is exclusively reporting.
A CNN insider says the 36-year-old anchor was a shoo-in for the highly coveted gig, until her diva demands became too much to handle. However, that hasn't stopped the highly ambitious journalist from working behind the scenes to throw her weight around at the in-flux news network.
Article continues below advertisement
All this as Zucker works hard to turn around the station's sluggish ratings and compete head- to-head with cable juggernaut Fox News.
"Erin was officially offered the spot, but as a negotiating tactic played too hard to get. Causing executives to wonder if she's worth the cost of doing business," the insider reveals.
"The word around the newsroom was that Erin's move to mornings was in the bag, and it was pretty much a done deal, just not signed yet, and she had already started to talk about who she would work with and who she wouldn't.
"She made it crystal clear that she would NOT want Ken Jautz (Executive Vice President of CNN, responsible for CNN/U.S.) or Bart Feder (CNN VP) involved at all with the programming.
"Zucker's trying to pull out all the big guns, and is looking to staff up with as many morning show vets as possible. With ex-Good Morning America EP Jim Murphy being appointed, staff are wondering how long it will be until ex-TODAY show EP Michael Bass is poached from Katie Couric's show, and Steve Capus from NBC is also thought to be a contender. All this leaves Jautz's position as CNN U.S. President in question."
As RadarOnline.com previously reported, Burnett has already been accused of "shameless self promotion" in her bid to transfer to the morning slot, and Radar's network insider says things are only getting worse!
"Erin is really upping the diva stakes right now, and it's seriously becoming irritating to everyone that isn't part of her inner circle," the source says.