Exclusive
Dennis Rodman Shocking Divorce Docs: Visitation With Kids Must Be Supervised By Cops, Hugely In Debt & Owes $219k Child Support!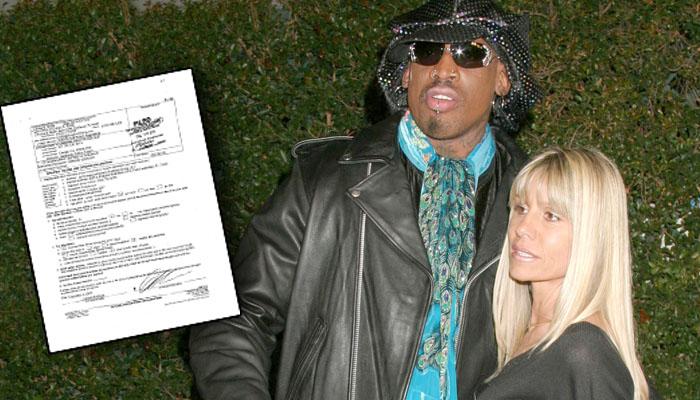 Dennis Rodman may be BFFs with North Korean dictator, Kim Yong Un, but when it comes to his own family the outrageous former NBA basketball star is on far from friendly footing, RadarOnline.com is exclusively reporting.
Rodman's divorce from his ex-wife, Michelle, has finally been completed and the court documented agreement between the two gives a shocking glimpse at the current state of the Celebrity Rehab star's life — including being $750k in debt and only being allowed visitation with his children in the presence of cops!
Article continues below advertisement
Michelle was granted sole physical custody of the kids and Rodman was ordered to pay $3,500 a month in child support.
Rodman, who lists his occupation as "entertainer" and claims to earn $125k a year, paints a dire picture of his current financial situation in an income and expense declaration he completed on December 6, 2012.
The 51-year-old lists a $285k debt to the IRS, a $219k debt to the state of Florida for child support relating to his child from a previous relationship and a $250k judgment listed against him in Nevada.
Article continues below advertisement
As RadarOnline.com previously reported, the now retired Chicago Bulls star has been thrust into the spotlight again recently for his bizarre behavior following a trip to North Korea.
Rodman – who is best known for his gold grillz, rainbow of hair colors, countless tattoos and piercings, high profile romances and crazy antics – described DPRK's recently anointed Supreme Leader as a "friend for life" after the new best buddies bonded court side during an exhibition game of the Harlem Globetrotters, and went partying together till the wee hours in the communist country's capital, Pyongyang.
The former athlete raised the ire of many after giving a crazy interview to ABC's George Stephanopoulos, during which Rodman called Kim Jong Un – who has vowed to destroy the U.S. – his friend, a good guy, humble, so honest and just a kid.
"He wants Obama to do one thing: Call him," Rodman said. "He said, 'If you can, Dennis – I don't want to do war. I don't want to do war.' He said that to me."
The White House denounced Rodman's North Korea visit as a "celebrity sporting event" for a repressive regime, and officials suggested the dictatorship should instead focus on the well-being of their own people "who have been starved, imprisoned and detained their human rights."