She's Back! Simon Cowell Is Happy That 'Really Annoying' Demi Lovato Is Returning To The X Factor!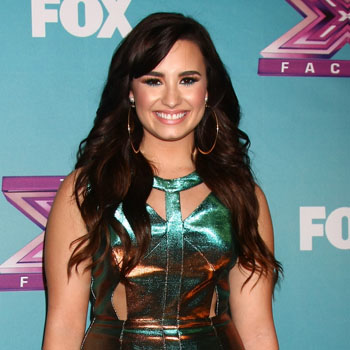 Demi Lovato is returning to The X Factor for a second season and – even though they publicly butted heads on the show last year – Simon Cowell said he "couldn't be happier."
But the sharp-tongued Brit couldn't resist poking fun at the 20-year-old singer, saying she is "really, really annoying."
"I couldn't be happier that Demi wants to come back this year," Simon said after Fox made the announcement Thursday.
Article continues below advertisement
"She's a superstar in her own right and was a fantastic mentor last year.
"Even though she can be really, really annoying - I truly enjoyed working with her and so did the artists."
Demi will be the only judge from last year, bar Simon, to return to the show - L.A. Reid and Britney Spears have since parted ways with the competition.
Demi gushed: "I am so excited to return as a judge and mentor on The X Factor.
"Last season was an unbelievable experience and I really enjoyed developing personal relationships with the contestants and the panel."
Yet in February Demi told Cosmo On Campus that she thinks she agreed to appear on The X Factor too soon after receiving treatment for bulimia and bipolar.
She told the magazine: "I don't think I was ready when I started The X Factor. In an ideal situation I would have maybe waited a year or more.
"I dived into work really quickly and maybe that wasn't the best idea at the time…"