007-Minutes! Daniel Craig Scores $1 Million Payday For Ridiculously Brief Range Rover Appearance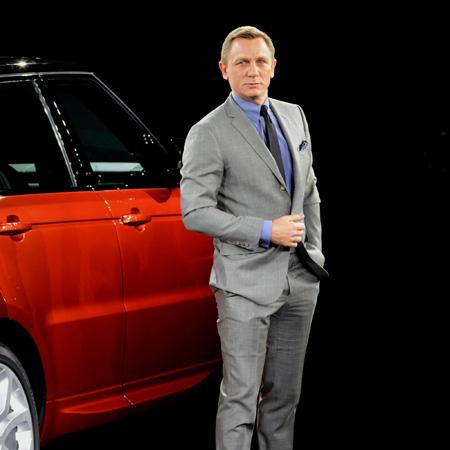 Seven must be a lucky number for James Bond star Daniel Craig.
According to reports, the actor who plays 007, was paid a massive $1 million to appear at a Range Rover event and stuck around for barely seven minutes!
Fans were left fuming after the 45-year-old Brit dashed in and out of the New York Auto Show event, the NY Post is reporting.
One guest told the newspaper: "He didn't even give a speech." Another said: "I couldn't even tell if he was actually here!"
Article continues below advertisement
During the event Daniel appeared in a video driving the $70,000-plus 2014 Range Rover Sport.
In footage reminiscent of his appearance during the opening ceremony of the 2012 London Olympics last year, the footage shows the car being driven from the company's UK manufacturing plant into New York, crossing the Manhattan Bridge and ending up on the red carpet.
Daniel then reportedly appeared live, walked along a line of photographers and guests and posed for a quick photo session.
Then in a flash the Skyfall secret agent was apparently gone!
A rep for Land Rover told the NY Post: "We won't comment on our relationship with Mr. Craig beyond confirming that Land Rover supports the charity S.A.F.E of which the actor is a patron and will continue its charitable efforts with a vehicle donation later this year."
S.A.F.E is a Kenyan and UK charity that fights a number of social issues in the African country including HIV/AIDS and female circumcision.