Exclusive
Conrad Murray Deposition Canceled As He Refuses To Answer Questions In Katherine Jackson Lawsuit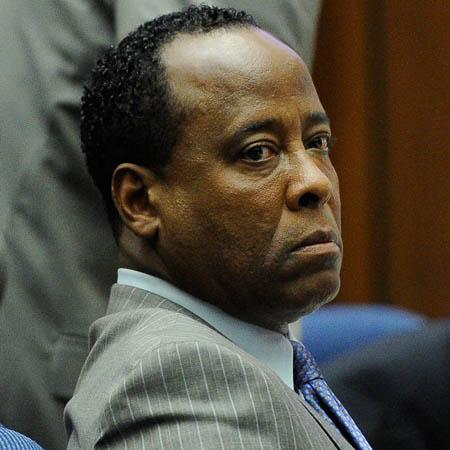 Conrad Murray's deposition in Katherine Jackson's lawsuit against AEG has been canceled because Michael Jackson's jailed former doc was going to refuse to answer any questions, RadarOnline.com is reporting exclusively.
Murray, behind bars after being found guilty in connection with Michael's death, plans to appeal and was going to exercise his Fifth Amendment right in the depo.
"Conrad Murray's deposition was canceled late Friday because he was going to take the fifth Amendment and refuse to answer any questions," a source told RadarOnline.com exclusively.
Article continues below advertisement
"Murray is appealing his involuntary manslaughter conviction. Katherine's attorneys feel they have a very strong case without him."
There was some confusion as Murray's attorney Valerie Wass gave lawyers conflicting messages, said a source. "In one phone call she indicated Murray wouldn't be testifying, the next minute, (she indicated) he would talk. So at the end of the day Friday, the decision was made to just pull the plug on it," a source said.
MORE ON:
Celebrity Justice
As RadarOnline.com was first to report, the King of Pop's oldest son, Prince, plans on testifying at the upcoming trial.
Katherine is suing AEG in connection with Michael's death, saying the company was negligent in how it hired and supervised Murray.
AEG was the concert promoter for Michael's comeback concerts that were scheduled to take place in London.
"Prince very much wants to take the stand and plans to tell jurors about specific conversations he had with his father about AEG," the source told RadarOnline.com. "Prince will also testify about the day his father died as he was an eyewitness to the efforts made to save his life. There are no plans for either Paris or Blanket to testify though."
Murray was convicted in 2011 for the involuntary manslaughter death of Michael after administering a fatal dose of propofol to help the pop singer sleep.
Murray had not signed his employment contract with AEG at the time of Michael's death.
The trial is scheduled to begin on April 1.