Celebrity Twitter Pics Of The Week! The Good, The Bad & The Outrageous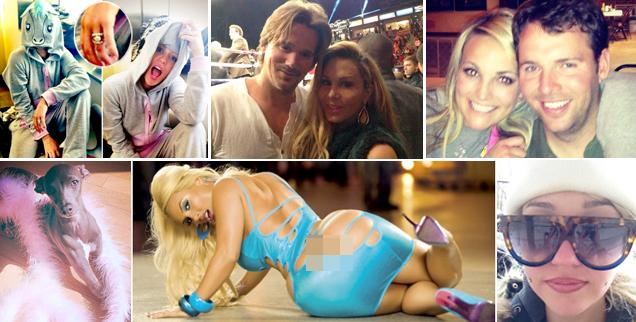 As Twitter celebrates its landmark seventh birthday this week, RadarOnline.com is presenting a very special roundup of the most outspoken and outrageous stars on the social networking site this week – who just can't seem to keep their wild thoughts or photos to themselves.
The most curvaceous reality star on TV changed her profile photo on Thursday, and her new choice couldn't be any cheekier! "How do u like my new profile pic?" asked Coco after she posted a shot of herself gyrating on the floor in a skintight blue outfit made up of flesh-baring cutouts. "This dress was the most requested so I'm trying it out..I like your feedback."
Article continues below advertisement
Former Disney darling Amanda Bynes continued her downward spiral with a pair of pierced cheek studs, which only just deflected attention from her shockingly over plumped lips. While most people would have hidden the scary look, the She's The Man star flaunted it on Twitter with a creepy close-up.
Instead of showing off her own semi-naked figure as usual, Courtney Stodden posted a photo of her pet dog – but made sure it was wrapped up in a pink feather boa to match her signature sexy style!
While Miley Cyrus oddly opted to prove she is still engaged by pairing her huge sparkler with a horse outfit, Jamie Lynn Spears went more conventional with a happy photo posing with fiancé Jamie Watson, telling followers: ":) #hedidgood."
Somewhere near the Jersey Shore, Nicole "Snooki" Polizzi revealed her off-the-wall parenting skills when she tweeted a photo of her nursery, complete with "baby's first iPad" attached to the wall. "My son is 7 months old and loves his iPad" wrote the whacky reality star.