Exclusive
Mummy-Mia! The True 'Back Story' On Why Hollywood Star Brendan Fraser Is 'Pleading Poverty'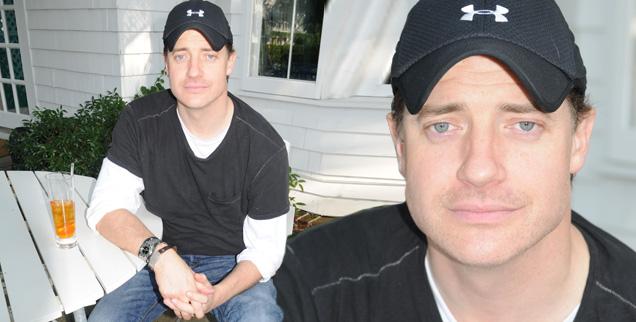 Brendan Fraser made the move to plead 'poverty' in an attempt to reduce his alimony costs recently because he is concerned about his future earnings following a freak accident, RadarOnline.com is exclusively reporting.
The Mummy star, who has requested that his annual $900,000 alimony payment to ex-wife Afton Smith be slashed, wrecked his back while trying to free a tree that fell on his Connecticut home when Hurricane Sandy hit the east coast. He has not attempted to modify his child support payments.
Article continues below advertisement
Following the severe injury, which required months of rehabilitation in a Beverly Hills clinic, Brendan, 44, was advised by doctors not to perform his own stunts in future movies, which could drastically affect his pay packet.
An insider familiar with the situation says the actor pays more than $300,000 per year in child support and is not trying to reduce that amount. "He's never missed one penny of his alimony or support payments," says the insider, who adds the divorce agreement specifies that if his income hits a certain threshold he has the right to modify his alimony payments.
"Brendan's trying to reduce his alimony because he suffered a serious injury that could really impact his movie earning potential," a source close to the actor tells Radar.
"Back in October a tree fell on Brendan's home during Hurricane Sandy, and it caused a lot of damage to the property.
"In his efforts to clear up after the storm, Brendon grabbed his chainsaw and tried to cut the fallen tree free. As the chainsaw went through the bark, Brendan's back gave way, and he was left in excruciating pain.
Article continues below advertisement
"The debilitating injury left him requiring correction back correction surgery, which he was performed in a private Beverly Hills clinic. Then, he had to undergo rehabilitation and was even using a stroller for a while, the injury was so bad.
"After the surgery, doctors advised Brendan against performing his own stunts, which is causing him to fret about his future income prospects.
"The first thing he thought of was to cut his outgoings, and that meant the alimony costs to Afton had to be reduced," the source reveals.
As RadarOnline.com previously reported, Fraser, who once had a net worth of $45m, filed legal papers in a Connecticut court in February requesting his alimony payments be reduced.
Fraser had only settled his divorce with Afton in 2009 – but insists that he can't cover the costs he initially agreed to because he's no longer earning the money he once did.
According to a report in the New York Post, Afton claimed that Brendan is hiding money from her, despite his protestations that his earnings aren't what they used to be.
Fraser listed a number of "medical issues" to the court as a reason for why his career has been in free fall.