High Roller! Looks Like Bradley Cooper Is Going To Be Sporting A Perm In New Movie!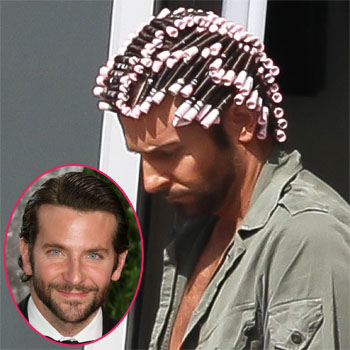 Looks like Bradley Cooper is going to be sporting an ill-fated perm in his latest movie!
The Hangover hunk was spotted coming out of his trailer wearing pink hair rollers on the set of his untitled David O. Russell film about the Abscam scandal in Boston, Mass. on Friday, and RadarOnline.com has the photographic evidence!
Perhaps the only thing that can appease Brad's female fans after that sight is the 38-year-old's washboard stomach (the envy of all men), which was on full display as he stepped out with his shirt unbuttoned.
Article continues below advertisement
But still, the hairstyle that made its way onto the head of nearly every leading man in the 80s (think David Hasselhoff) has no place in society for any self respecting modern day man!
Bradley completed his quite un-menacing combat look with some tight cargo pants and a pair of heavy duty boots.
The Abscam scandal was a sting operation run from the FBI's Hauppauge, Long Island office in the late 1970s and early 1980s. The operation initially targeted trafficking in stolen property but was converted to a public corruption investigation.
The investigation ultimately led to the conviction of a United States Senator, five members of the House of Representatives, one member of the New Jersey State Senate, members of the Philadelphia City Council, and an inspector for the Immigration and Naturalization Service.
The film reunites Bradley with his Silver Linings Playbook director David O. Russell, as well as Jennifer Lawrence who has a starring role.
It is slated for wide release on Christmas Day, following a December 13 limited release.