Bradley Cooper Feels 'Privileged' For Watching Dad Die, 'It Changed Everything, Nothing Has Been The Same Since'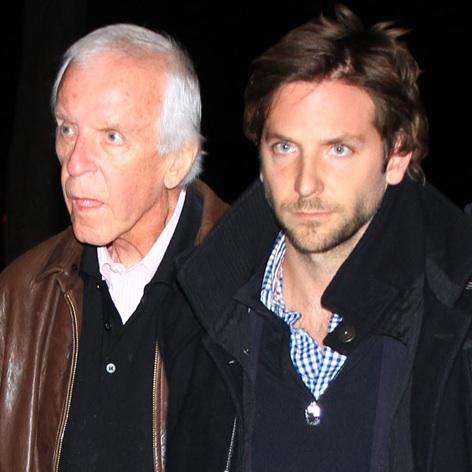 Bradley Cooper is opening up about the death of his father -- admitting it changed everything in his life, and RadarOnline.com has details on his heartbreaking interview.
The Silver Linings Playbook star sat down with GQ magazine and spoke candidly about the loss of his beloved dad, Charles, and how 'privileged' he felt to be by his side when he passed away in 2011.
"Death became very real," Cooper said. "And very tangible. Because my father - someone who had been in my life for 36 years is just f**king gone. I watched him dying, and I was there by his bed watching him, breathing with him, and then I saw his last breath, and he was gone.
Article continues below advertisement
"I experienced the whole thing. And that was a watershed moment that I was privileged to experience. And it changed everything. Nothing has been the same since.
"My father gave me two gifts - having me and dying with me. I used to be the kid that got the shakes if I had to talk in public; now, I just don't get nervous about stuff.
"I can't control everything. I watched my father die, and I realized that is the way we are all going to die. For me, it was a switch from knowing something intellectually to knowing it by tangibly experiencing it. It rewired my neurological system. It almost did the opposite of motivating me.
"It was about keeping the main thing the main thing."
Cooper -- who was nominated for a best actor award at the Oscars this year -- became a household name after his role in the popular comedy The Hangover.
But if he had taken the advice of his some of his fellow actors, he says he would never have even taken the part!
"Well let me tell you about actors," he said. "Back then, I had a couple of high profile actor friends who were pretty successful, and they were saying, 'Why are you doing that movie called The Hangover? I read the script, and I passed'.
"And I'm like, 'Oh, Ok. Well I'm doing it.' Something I've learned -- other successful actors love telling one another they've passed on a script!"