'I Agreed' With Billy Joe Armstrong's Rant, Green Day Bandmate Says About Meltdown That Led To Rehab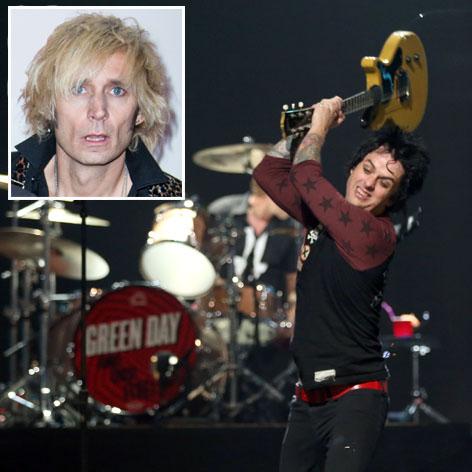 Billie Joe Armstrong's very public meltdown last year didn't come as a surprise to his Green Day bandmates, especially bassist Mike Dirnt.
In an extremely candid interview with Rolling Stone, Dirnt reveals what Armstrong was like before that embarrassing stage incident.
"We all turned a blind eye to it – 'Everyone, deal with your own s**t.' Because we were working so hard," Dirnt said of the warning signs.
Article continues below advertisement
As RadarOnline.com reported, Armstrong smashed his guitar on stage when the producers of the iHeartRadio Festival in Las Vegas signaled the band they had just one minute left in their performance.
"You're going to give me one minute? One f***ing minute?" Armstrong raged. "I've been around since f***king 1987 f***ing 8 and you're going to give me one f***ing minute?
"I'm not f***ing Justin Bieber, you motherf***ers."
"Truth be told, I agreed with what he said, outside of mentioning anybody else." said Dirnt, who grew up with Armstrong. "I know that's not Billie. But the bigger side of it – I actually agreed with the rant. But I was watching my friend and going, 'You're out of your f**king mind.' And we were dealing with a s**tshow."
Armstrong also spoke directly to Rolling Stone about his two decades of abusing alcohol and drugs and his "gruesome" rehab experience.
Article continues below advertisement
Now clean and sober, the American Idiot and 21st Century Breakdown singer and writer is preparing to go back out on tour as Green Day's front man.
"The backstage doesn't need to be a bar. And that's OK with me," said Dirnt. "That's just time-killing, coping mechanisms. Also, we don't have to say yes to every opportunity in front of us. We did something like 228 shows for American Idiot and 190 for 21st Century Breakdown. And that doesn't include band practice five days a week in between.
"My thing is, good, bad or ugly, I gotta support my boy. I'm gonna back him up, and then I'm going to take it the next step further with him. And we're gonna do it offstage, too."