UnBEARable Cuteness! Bear Cubs Rescued From Cardboard Box By Firefighters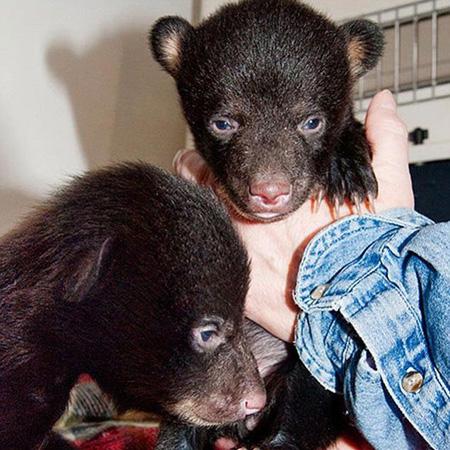 Three adorable bear cubs were discovered in a cardboard box on the side of the road in Long Creek, South Carolina, by a volunteer firefighter and RadarOnline.com has all the details (including photos and video!) on this heartwarming rescue.
"I thought it was little puppies in that little box, so I got closer to it," firefighter Brandon Poole said. "I noticed I heard squealing so I thought it was baby pigs. I got closer and picked one up — it was three baby bears."
Article continues below advertisement
Despite his daughters wanting to keep the cuddly cubs, they were handed over to the Department of Natural Resources where the trio was split up with two of them sent to the Appalachian Bear Rescue in Tennessee, and the third sent to Charles Towne Landing in Charleston, South Carolina.
"They're still too young to stand up, and crawling is a time consuming chore — their back legs know what to do, but the front ones haven't got the knack of it yet," spokesperson for the Appalachian Bear Rescue, Heather Ripley, told FOX Carolina.
The cubs — named Bennie and Jerry — weight less than three pounds each and are currently being hand-fed, but will eventually be released back into the wild once they're strong enough.
"When they're old enough, they'll be moved to one of the wild enclosures in preparation for release back to the wild," Heather said.
"At each stage, human contact is diminished until there's not direct contact at all."