It's A Girl! Alec Baldwin And Wife Hilaria Reveal Baby's Gender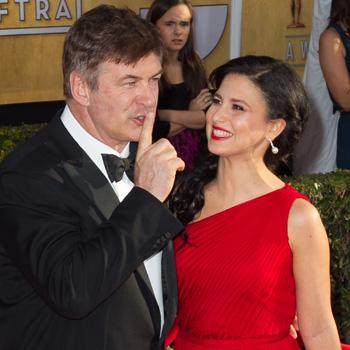 Alec Baldwin and Hilaria Thomas are having a baby girl, RadarOnline.com reports.
The 30 Rock star's yoga instructor wife spilled the beans during an interview with entertainment show Extra on Thursday.
"Alec and I are overjoyed that we are going to be welcoming a little girl into our lives," Hilaria, 28, reveals.
Earlier in the week, Hilaria revealed that she was already having some strange cravings during her first pregnancy.
Article continues below advertisement
"At the beginning I wanted pineapple and citrus, which was not typical for me, but then you get heartburn so I had to stop that," she told Us Weekly at the Academy of the Arts Lifetime Achievement Awards in New York City.
"I don't have really crazy cravings. I definitely eat more than I did before, but nothing too crazy."
However, the more research Hilaria does about becoming a mom, the more scared she becomes!
"I'm reading a lot, although I'm learning it's not good to read too far in advance because then you freak out," she said.
"I saw a birthing video the other day and I was like, 'That's too much information for me! I don't want to know that yet!'"
Alec, 54, and Hilaria married on June 30, 2012, at St. Patrick's Old Cathedral in New York City – a year after they first began dating.
This will be Alec's second daughter, his first, Ireland came from his failed marriage to Kim Basinger.