Monkey Magic! Zoo Workers Dress Up In Furry Suits To Raise Absolutely Adorable Abandoned Baby Gorilla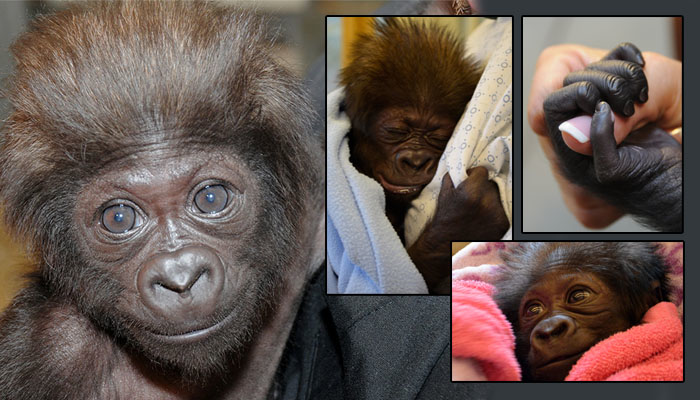 Article continues below advertisement
"The next step, she'll be able to walk around by herself," explained team leader Ron Evans, one of the 10 staff members who are imitating a gorilla mom's behavior to make her feel at home, the Cincinnati Enquirer is reporting.
Just like a human baby, Gladys recently began teething and is now starting to eat some cooked foods, such as sweet potatoes and carrots, as well as being bottle-fed five times a day.
"She's at the age now where she really starts growing by leaps and bounds," said Evans.
The gorilla surrogates dress in all black with furry vests and knee pads as they make primate sounds to help Gladys with the transition back with her own species when the time comes.
Originating in the forests and swamps of central Africa, Western Lowland Gorillas are now extremely rare in the wild with the population estimated at just 200,000 due to the threat of Ebola, deforestation and poaching by hunters.
Article continues below advertisement
Luckily for Gladys, there are currently 550 of the breed in captivity worldwide, with the Cincinnati Zoo leading the U.S. in successful births. The next challenge for her care team is to find an actual real gorilla surrogate to take over the parenting duties, explained Evans.
The most likely gorilla surrogates are Samantha, 43, and M'Linzi, 30, both who are experienced moms. But two teens, Chewie and Mara, "are just infatuated with this kid," he explained.
Ultimately though, "the gorillas have to decide who this baby's mom is going to be," which could take from one to three months.
"The older Gladys gets ... the more she will imprint on people, the harder it will be to make that transfer," the primate expert explained. "So the younger, the better."
radar_embed service=youtube src="https://www.youtube.com/embed/TUkF4wl3cnc?list=PLD7651A5A8D4D47C0" width="560" height="315"