Affenpinscher Banana Joe Claims Best in Show At Westminster Dog Show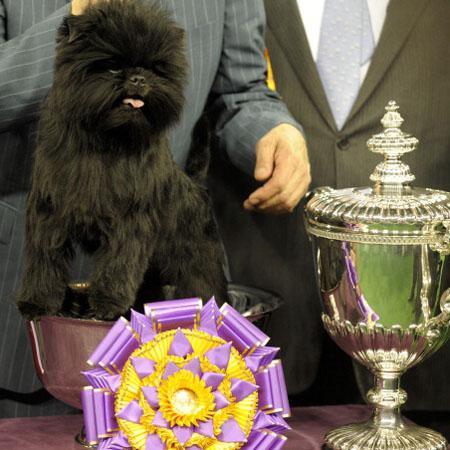 The winner of the 137th annual Westminster Kennel Club Dog Show was crowned Best in Show at New York's famed Madison Square Garden Tuesday night: a 5-year-old Affenpinscher nicknamed "Banana Joe V Tani Kazari."
With the victory, Banana Joe is the first Affenpinscher to claim the prestigious prize of the coveted silver bowl.
Banana Joe's handler Ernesto Lara said dogs in the breed, known for their monkey-esque face, "have a comical seriousness about them.
Article continues below advertisement
"He doesn't think he's funny," Lara said of the prize-winner. "He doesn't know his size or know that he has a pushed-in face. He thinks he's Mr. America."
Lara said the dog has "won big shows but none like this one … I'm not bragging but that's just the way he is."
Watch the video on RadarOnline.com
youtube
In choosing Banana Joe, Judge Michael Dougherty explained his decision.
"He was presented in immaculate manner," Dougherty praised. "He was on the minute he walked in ... He's in perfect condition, perfect body."
Banana Joe is owned by a Dutchman named Mieke Cooijmans, and is going back to Holland following the win.
Best in Show runner-up was Swagger, a 20-month-old Old English sheepdog, who made his debut Westminster appearance Tuesday at the Garden.
"It's the start of his career," Swagger's owner Colton Johnson said, since he's only been in four shows so far.
In all, there were 2,721 entries in the 137th Westminster Kennel Club Dog Show.