The Best, Worst & Wackiest Fashions At The Grammy Awards Over The Years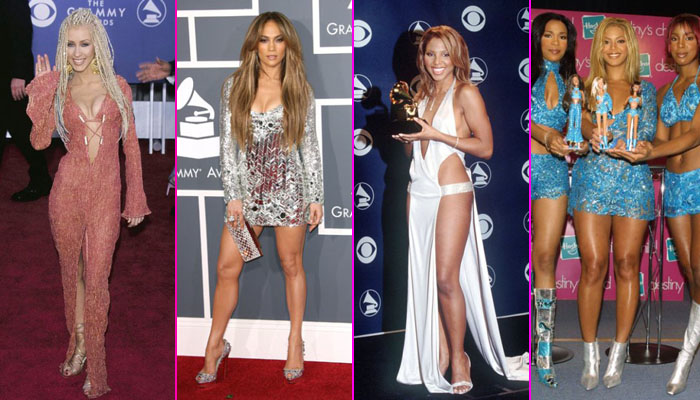 Who has hit the high note and who has totally missed the mark at the Grammy Awards over the years?
Before we pick the wardrobe winners and sinners at the upcoming 2013 Grammy Awards Sunday night, RadarOnline.com is bringing you on a walk down red carpet memory lane with a look back at the most rocking and shocking fashions in the history of the show.
At the 2010 Grammy Awards, proving she had come a long, long way from her Hannah Montana days, a very grown up looking Miley Cyrus dazzled in Roberto Cavalli tiger stripes, while Katy Perry showed off her angelic side by pairing her custom Giorgio Armani gown with a pair of wings!
Article continues below advertisement
Who can forget Jennifer Lopez's stunning look in 2000, when the diva stepped onto the red carpet of the 42nd Annual Grammy Awards with then boyfriend Puff Daddy in a look that went on to become one of the most iconic dresses of all times. The Latina singer was dressed to shock in her dramatically low-cut and sheer Versace gown, which barely covered her boobs. That same year, Britney Spears wore one of her glammest looks ever, channeling Old Hollywood in a white hot tank dress.
In 2001, Toni Braxton http://www.radaronline.com/category/tags/toni-braxton left nothing to the imagination in her slit-to-the-hip Richard Tyler gown, while Christina Aguilera http://www.radaronline.com/category/tags/christina-aguilera looked a lot more Dirty than glam in racy red threads.
Despite being heavily pregnant, M.I.A sassed up the 2009 show, which happened to fall on her due date, when she performed onstage flaunting her huge baby bump in a skintight, polka-dot mini.
From Christina Aguilera's Genie in a Bottle flop in 2001, to Katy Perry's pretty in pink Basil Soda score in 2009, see all the best, worst and wackiest Grammy Awards fashions of all time by clicking here
TAGS: The Grammy Awards, Awards Season, Style, Katy Perry, Jennifer Lopez, Christina Aguilera, Taylor Swift, Beyonce, Lady Gaga, Mary J. Blige, Toni Braxton, Cher, Britney Spears, Grammy Awards 2012, Grammys, Red Carpet