Are You Ready For Another Giudice? Teresa Caving To Joe's Demands For Baby Boy, Considering Surrogate!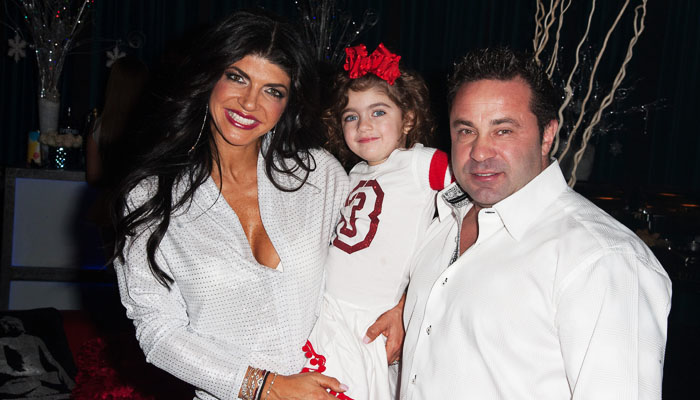 Real Housewives of New Jersey's most outspoken, fiery and controversial star, Teresa Giudice isn't always the one calling the shots, despite what you see on camera - in fact, when it comes to her home life she totally defers to hubby Joe - even caving in to pressure for another baby!
Despite Teresa not wanting to add any further to their already sizable brood of four adorable daughters, she's starting to come around to Joe's demands for another baby, especially now he's found a way to overcome the 40-year-old's objection to suffering through yet another pregnancy.
Article continues below advertisement
"Joe really wants a boy," Teresa tells the new issue of In Touch Weekly. "And he said we should get a surrogate to carry it!"
One factor that's helping tip the scales is that Teresa's always wanted a boy – especially after her bitter rival and sister-in-law Melissa Gorga gave birth to her first son.
"After her brother's wife had Gino (now 5), Teresa was dying for a boy, too," an insider tells In Touch.
It's believed that Teresa had to undergo a punishing regime of IVF treatments in 2009 in order to conceive Audriana, 3, and that she had initially hoped she was having a boy.
Teresa clearly thought that would be her final pregnancy, vowing last year that she was "done" having kids, after giving birth to Gia, 12, Gabriella, 8, Milania, 7, and Audriana.
"Teresa's happy with her family the way it is," a pal tells In Touch. "She loves her four girls."
However, despite that, Teresa will do anything to make her notoriously hot-headed hubby happy, and she even has a name picked if they do go through with a surrogacy.
"Franco," Teresa tells In Touch. "After my father-in-law."