Exclusive
Lock Down The Tables! All The Details On Teresa Giudice & Joe Gorga's Latest Knock Down Drag Out Fight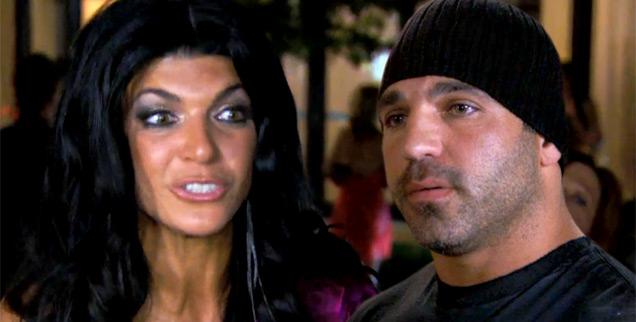 Teresa Giudice is starting the new season of The Real Housewives of New Jersey exactly the same way she ended the last one – yelling and fighting with her brother Joe Gorga, and RadarOnline.com has all the exclusive details on what sparked the most recent round of fighting.
The fiery reality TV star was helping her friend Kim DePaola promote her jewelry line recently when the latest altercation occurred and within seconds the siblings were at each other's throats!
Article continues below advertisement
Apparently trouble started after Kim D's assistant Maria Sancilio attempted to get Joe, who is married to Teresa's long-time adversary, Melissa Gorga, to kiss and make-up with his sister.
"That's your only sister, make peace," Maria told Joe, Celebrity Magnet Tom Murro exclusively tells RadarOnline.com.
"Shut up and get the f**k out of here," Joe screamed back, before promptly getting in to the bitter battle with Teresa.
"Why didn't you call me? I was in the hospital?" he screamed at his sister, who quickly snapped back, "Why didn't your wife tell me?"
That set Joe off, and he tore into Teresa, slamming her for "always bringing my wife up!"
In true Giudice style, all the drama was caught on camera, including Joe storming out of the party after his sibling screaming match ended.
Meanwhile, Kim D, who is solidly Team Teresa, explained why she is so loyal to her friend.
Article continues below advertisement
"I owe a lot of the success of my store, Posche, to Teresa, and of course Jacqueline Laurita and Caroline Manzo have also been very supportive," she told Murro. "I think Teresa is a phenomenal friend and extremely supportive and very influential in getting me on the show."
Kim D went on to explain why she gives so much credit to Teresa for the popularity of her jewelry, saying that Giudice helped dramatically increase awareness of the brand by wearing it in public, especially the Couture Cuff, which is Teresa's favorite item from the fashionable line.
Do you think Teresa is going to keep fighting with her family again all season? Tell us in comments!