Richard Marx: 'Risque Clothing Banned At Grammys, But Guys Who Beat Up Women?'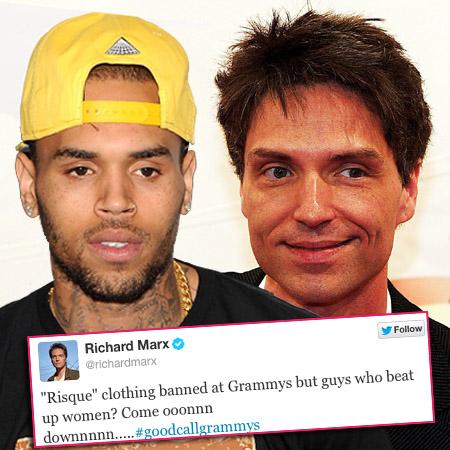 Richard Marx doesn't get it - sexy clothes, bad; women-beaters, OK.
The Right Here Waiting singer expressed his confusion about CBS's Thursday mandate to avoid too-sexy outfits, but willingness to welcome convicted felon Chris Brown with open arms.
He tweeted: "'Risque' clothing banned at Grammys but guys who beat up women? Come ooonnn downnnnn.....#goodcallgrammys.'"
In a later tweet addressed to a follower, the soft rock staple clarified, "Technically that tweet was about ANY d**kbag who hits women."
Article continues below advertisement
As we previously reported, in an e-mail Thursday, CBS, who is airing the show, said that invitees should avoid wearing anything too provocative
Brown, who took home the best R&B album Grammy for F.A.M.E. last year, hasn't responded to the barbs from the Satisfied singer.
While Brown and Rihanna have resumed their romance four years after he famously beat her, the Forever continues to receive flak from the public and fellow celebrities for his cavalier attitude toward his past misdeeds.
The 55th annual Grammy Awards airs this Sunday at 8/7c on CBS.