Jessica Simpson And Eric Johnson In Escrow To Buy The Osbournes Home — Take A Peek Inside!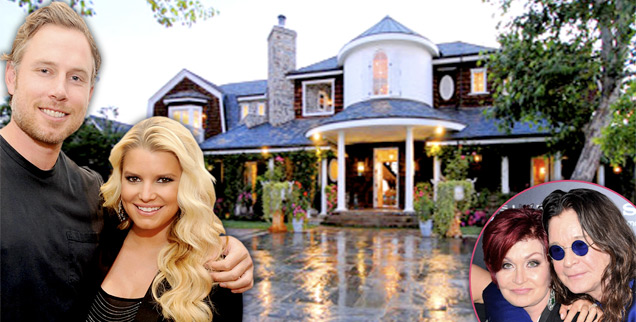 Article continues below advertisement
The Cape Cod-inspired house is twice the size of Jessica's current Beverly Hills home with 6 bedrooms and 10 bathrooms, as well as a grand staircase and large windows.
Outside, there's a large swimming pool and patio – perfect for family gatherings and entertaining guests.
The main bedroom has a Victorian-esque master bath with French doors that open to a private veranda.
Renovations are also underway to turn Osbourne's huge walk-in closet into a nursery for the couple's second child.
"She's already met with designers!" a source told Us.
Back in January, RadarOnline.com exclusively revealed that Jessica and Eric were in advanced negotiations with Ozzy and Sharon – but wanted to see the damage caused by the minor blaze before committing to any sort of deal.
"When Jessica and Eric heard about the fire they were as equally as disappointed as the Osbournes," a source told RadarOnline.com.
They were planning on making an offer on the mansion somewhere in the region of $12 million, because they felt it was the perfect family home.
"Now, they're going to have to assess the damage before committing, even though they heard it is pretty minimal."
Firefighters were called to the home after Sharon revealed she forgot to extinguish a candle before going to bed.