75-Year-Old Jack Nicholson Is Never Too Old To Flirt! Hits On 22-Year-Old Jennifer Lawrence During Oscars!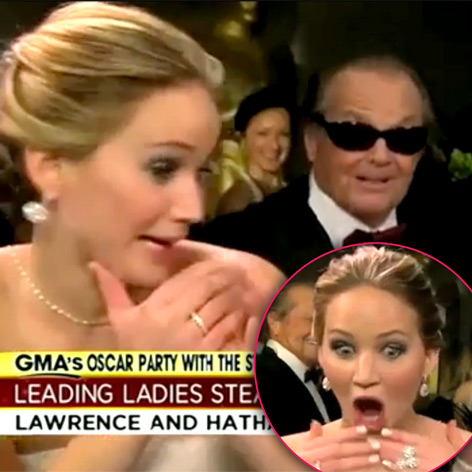 Article continues below advertisement
When Jack first appears on the scene, a star-struck 22-year-old Lawrence jokes: "Yeah, you're being really rude," as he continues to interrupt.
"Good to see you. I enjoyed it," Jack says.
To which Jennifer kindly responds: "Thank you. I loved all your movies."
Without blinking, Jack continues: "You look like an old girlfriend of mine."
Not perturbed by Jack's cheeky one-liner, the Silver Linings Playbook star replies: "Oh really, do I look like a new girlfriend?"
MORE ON:
Jennifer Lawrence
"I thought about it," Jack retorts in the hilarious exchange as Jennifer looks on blushing.
But the ladies man wasn't quite done flirting with Jennifer…Moments later, he appears behind Jennifer again and tells her "I'll be waiting," causing further embarrassment to the young starlet who can only mouth, "Oh my god!" before turning bright red!