Exclusive
Real Story Behind Man Threatening To Sue Woman Who Reunited Him With Impounded Dog — The Good Samaritan Tells All!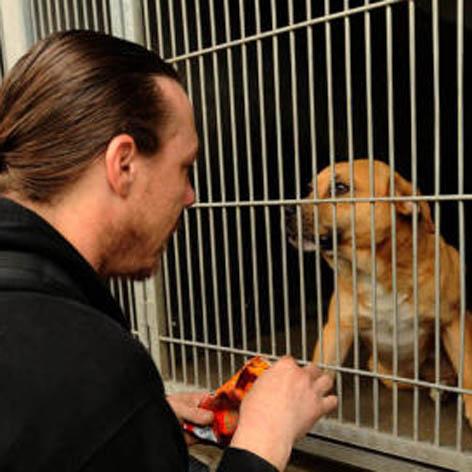 The woman who helped reunite a Californian man with his impounded dog after posting a heartbreaking photo of the two on Facebook is "shocked" that he is now threatening to sue her, the Good Samaritan tells RadarOnline.com in an exclusive interview.
When Maria Sanchez saw that Dave Thomas couldn't afford the $400 fee to get his beloved 2-year-old pit bull Buzz Lightyear released from the San Bernardino City Animal Shelter on February 13, she decided to take action herself.
Article continues below advertisement
Sanchez managed to capture an image of a weeping Thomas, next to his four-legged-pal who was caged. She then posted it on Facebook and asked her pals and the community to donate money to release the caged canine back to the hard-up owner -- whom she'd been led to believe had the dog taken away and impounded after he was sent to jail for failing to appear in court for traffic violations.
Her campaign proved to be successful and Sanchez managed to get Buzz released and into the custody of his owner once again. However, days later Thomas allegedly berated Sanchez in a voicemail insisting all of the raised money that was left over after paying for Buzz's release should go straight to him and his wife, and if it didn't he would sue!
"I was so shocked," a flabbergasted Maria Sanchez tells RadarOnline.com.
"I thought I was doing a good deed because it was such a heartbreaking moment. Little did I know that it would come back to haunt me.
"If I didn't act quick, the dog would probably have been euthanized within a few days, so I had to do something.
"This man wanted the rest of the cash from the charity donations in a lump sum, which I didn't want to give him."
Sanchez managed to raise over a $1000 for Buzz, $842.07 of which she kept herself to cover the fees she had paid out for shelter and vet treatments. The rest she says, "will go to the shelter."
Sanchez says that so far, Thomas hasn't followed through with his legal threats — at least not just yet.
"I haven't received any calls from any lawyers or him since that voicemail," she reveals.