Homeless Man Returns Expensive Engagement Ring Accidentally Dropped In Change Cup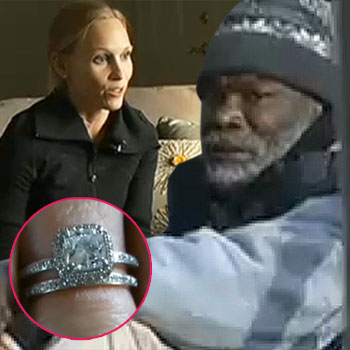 A homeless man has proved he may be down but he isn't out when it comes to human kindness.
The man performed the ultimate act of honesty by returning a large, expensive, diamond engagement ring to a woman after she accidentally dropped it in his change cup, RadarOnline.com is reporting.
Billy Ray Harris was begging for money on the Plaza in Kansas City, Missouri last Friday when Sarah Darling stopped to give him what she believed was just a handful of change.
Article continues below advertisement
Darling returned to the spot where she had met Harris, squatted next to him and asked if she had left anything valuable with him -- and he immediately produced the ring and handed it over.
"It seemed like a miracle. I thought for sure there was no way I would get it back," said Darling. "I think in our world we often jump to like the worst conclusion, and it just makes you realize that there are good people out there."
Article continues below advertisement
For his honesty, Darling gave Harris all the cash she had in her wallet. But he said he was simply acting in accordance with how he was raised by his reverend grandfather.
"Thank the good Lord, it's a blessing, but I do still have some character," he told KCTV5.
And this isn't the first time Harris has found a missing ring. According to the report, Harris once found a Super Bowl ring belonging to a retired unnamed Oakland Raiders player alongside a creek that runs through the city.
He returned it to the hotel where the man was staying and was given a hefty cash sum in return, as well as a three-night stay at the hotel!
See, honesty DOES pay!