Hollywood's Best & Worst Lovers Revealed!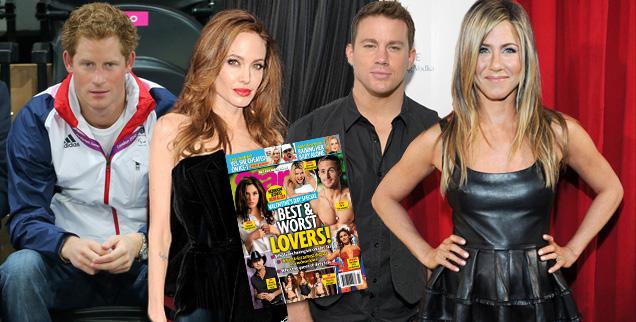 Hollywood's hottest stars regularly steam it up on the big screen, but what about off? While some celebrities are burning up the bedroom others are throwing cold water on their sexy time!
So, who is the hottest, and who is not? The new issue of Star magazine gives the full rundown on Hollywood's best and worst lovers, and has a sneak peek at their findings! Check out our photo gallery for the info that may confirm what you thought, may surprise you, but will definitely get you talking about it!
Article continues below advertisement
Which leading ladies win the Oscar for best performance in the bedroom, and which ones are awarded a Razzie?
How do Angelina Jolie, Jennifer Aniston and Taylor Swift stack up between the sheets?
Well, Taylor gets low marks from one source who says. "all she wants to do is kiss for hours,which is probably why none of the guys she dates stick around." Ouch!
And, what about the men? They may portray lusty Lotharios on screen, but are they left seriously lacking when the camera stops rolling?
Does Channing Tatum know his way around the bedroom ? How about Ben Affleck or Ashton Kutcher?
Affleck gets a high grade for giving massages, putting flowers around the bed and putting a woman's needs before his own. (Go, Ben!)
Check out our gallery of Hollywood's Best and Worst Lovers, and for the full rundown on who sizzles and who fizzles in the sack, pick up the latest issue of Star magazine - on newsstands Thursday!